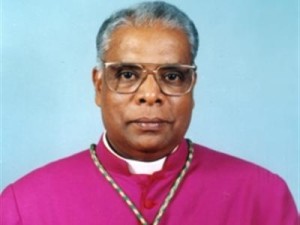 Bishop of Mannar, Rev. Rayappu Joseph
The Bishop of Mannar, Rev. Rayappu Joseph, is urging Indian Prime Minister, Manmohan Singh, to attend the Commonwealth Heads of Government Meeting (CHOGM), and visit the Northern Province including Mannar during his stay in the island, as India had also promoted the war, and therefore he should see for himself, the outcome of the war. "I want him to participate in the upcoming CHOGM and thereafter pay a courtesy visit to the Northern Province, and meet the Tamils. He will then 'realize' the outcome of the war," he said.
He said what had happened during the war was known to everyone; yet the CHOGM is being held in Sri Lanka. As such, the Indian PM has a huge commitment and responsibility to state his stance on the problems the Tamils in the country are facing.
"The government still continues to say there were no disappearances and there were no human right violations, when the whole world knows that this was not the case. So India being the 'Mother of the Tamils' should 'wake up' and assist the Tamils, and boost their morale to live in harmony in the land they belong to. "India is powerful and they have done much for the Tamils like building houses. We therefore welcome Manmohan Singh, and trust that his visit would 'enlighten' him and the Tamil community as well," the Bishop said.
Speaking further, he said: "We, the Tamils, have doubts that CHOGM will bring relief to the suffering Tamils, or a political solution to the Tamil issue. Even now there are loads of corruptions going on in the Mannar District, including the misuse of fund allocated to the people of Mannar.
"We see every government official only placing their signature and executing the work the government wants done, denying all the essential facilities like education, houses as well as sanitary facilities for the people who were displaced and who had suffered during the war."
Bishop Rayappu Joseph also said they harbour hopes and have trust only in the Tamil National Alliance (TNA), and called on them to perform their duties, free of corruption or abusing power in the Northern Province.
"It's disgusting to see how the government ministers and officials attend to the needs of the people which leave much to be desired. I hope the government will give the allocated funds to the Northern Provincial Council (NPC) to run the affairs of the Province, instead of allowing the government officials who dance to the tunes of their superiors, disregard the responsibilities entrusted to them," he said.
CHOGM is just another event and they will come, talk and then leave, and it will not give equal rights to the people of this nation, he opined.
He also called the probing into human rights violations should be conducted by the intentional body and not by the local authorities as the Tamils have no trust in local investigations.
By Sulochana Ramiah Mohan
CT