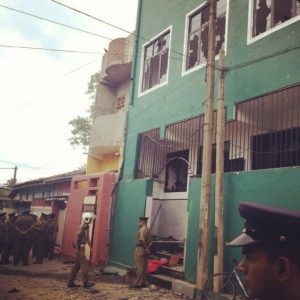 Statement condemning the attack on the Masjid Deenul Islam at Grandpass, Colombo
We the undersigned strongly condemn the violent and unprovoked attack on the Masjid Deenul Islam in Grandpass area on Saturday, August 10, 2013 by an extremist mob injuring 12 people, in the wake of the Eid Festival.
We are outraged over the spate of violent attacks against Christian and Muslim places of worship, and remain deeply concerned about the rise of extremist rhetoric around the island.
While recognising and promoting the constitutionally guaranteed rights of free speech, religious worship, and assembly, we urge all communities to respect the religious beliefs – and the associated rights – of their fellow citizens, and to not be influenced by State-condoned Buddhist extremists groups.
At this time, we also wish to express our deep disappointment at the lack of concrete outcomes from inquiries into multiple other attacks against places of worship that have occurred in the recent past.
We are extremely disheartened at the silence and the visible apathy displayed by the Government and the
Mahanayake Theros of the Tri-Nikayas
, at a time when the rights to religious worship and assembly of its citizens are being threatened by extremism. We also wish to highlight apparent State complicity, and the level of impunity repeatedly granted by the State to extremist elements in the country.
We urge law enforcement authorities to ensure strict adherence to rule of law and prosecute those who are responsible for these heinous crimes, in the existence of abundant evidence put forward by both the public and the media. In addition, we are very disturbed to see continued Police inaction and delays in responding to incidents of racist mob violence, which is a clear indication of State complicity, and the lack of any interest by Defense Authorities to hold perpetrators accountable.
We welcome and endorse the open letter of protest by Muslim members of the Government addressed to the President of Sri Lanka, and share their view that "the lukewarm and ineffective measures taken by the law enforcement agencies on previous occasions, when Muslim communities and their mosques were deliberately attacked, seem to have emboldened some extremist groups who seem determined to create chaos in the country that is still in search of national reconciliation after a prolonged war."


Further, we call on the Government to investigate into and hold accountable those responsible for the brutal killing of three youth in Weliweriya earlier this month, when the State sent in the military to quell a civilian protest calling for clean water.
In light of reports of media suppression and violence against media personnel reporting from the scene, we strongly urge law enforcement authorities and the protestors to respect the freedom of the press, and to take all measures to ensure their safety.
We wish a speedy recovery to those who were injured in this attack, and commend the calm resilience demonstrated by many of those who were victimised.
1.
A.H. Stephen – Deputy Secretary General, Liberal Party of Sri Lanka
2.
A.M. Faaiz – Attorney-at-Law
4.
Ainslie Joseph – Convenor, Christian Alliance for Social Action (CASA)
5.
Aisha Ajmal Wahab – Student
7.
Ajmal Wahab – Partner, Bullion Exchange Jewellers
11.
Anandi Devendrakumary
16.
Antonio A. Oposa Jr. – (Philippines)
22.
Balasingham Skanthakumar
24.
Bhathiya Waduge – Director/Structural Engineer, CSE Consultants (Pvt) Ltd.
26.
C. Gadiewasam – Journalist
29.
Chandra Jayaratne – Former Chairman, Ceylon Chamber of Commerce
30.
Chandraguptha Thenuwara
34.
D.B.S. Jeyaraj – Journalist
35.
Damaris Wickremesekera
36.
Danesh Casie Chetty – Ambassador

(Retd.)
39.
Dinesha Samararatne – University of Colombo
41.
Dinouk Colombage – Journalist
42.
Dr. A.M. Ali Saja – Doctor
43.
Dr. Anita Nesiah – National Peace Council (NPC)
44.
Dr. Danesh Karunanayake – Senior Lecturer, University of Peradeniya
45.
Dr. Dayan Jayatilleka – Former Ambassador to the UN in Geneva
46.
Dr. Leonie Solomons – Social Entrepreneur
47.
Dr. Muttukrishna Sarvananthan – Development Economist & Principal Researcher, Point Pedro Institute of Development
48.
Dr. Neavis Morais – Senior Lecturer, Open University of Sri Lanka
49.
Dr. Paikiasothy Saravanamuttu
50.
Dr. Ranil D. Guneratne – University of Colombo
52.
Dr. Shamala Kumar – University of Peradeniya
53.
Dr. T. Jayasingam – National Peace Council (NPC)
54.
Dr. Vagisha Gunasekara –
Senior Research Professional, Centre for Poverty Analysis
55.
Dr. Vivimarie VanderPoorten Medawattegedera – Senior Lecturer, Open

University of Sri Lanka
59.
Freddy Gamage – Meepura Newspaper/Center for Peoples Dialogue
61.
G.S. Lakshan J.S. Dias
63.
Gavin Britto – Co-Founder, RuCode International
65.
Harini Amarsuriya – Open University of Sri Lanka
66.
Harith de Mel – Attorney-at-Law
67.
Hashintha Jayasinghe – Graduate
68.
Herman Kumara – National Fisheries Solidarity Movement (NAFSO)
69.
Hilary Perera Wirasinha – DoC
71.
Ifthikhar Aziz – President, Sri Lanka Pakistan Friendship Association
72.
Isuru Perera – Social Research Supervisor
74.
Janaki Jayawardena – University of Colombo
76.
Jayanthi Kuru-Utumpala – Women and Media Collective
77.
Jayatilaka Kammallaweera
78.
Jehan Perera – National Peace Council (NPC)
80.
Jeyachithra Selambaram
82.
Joel Fernando
–
Business Development Manager, Insu Trading International
84.
K. Aingkaran – Attorney-at-Law
85.
K.S. Ratnavale – Attorney-at-Law
90.
Kusal Perera – Journalist
91.
Lakshan Dias – Attorney-at-Law
93.
Liyanage Amarakeerthi
96.
M.A. Sumanthiran – Member of Parliament & Attorney-at-Law
98.
Mahaluxumy Kurushanthan – Mannar
99.
Mahendran Thiruvarangan
100.
Mala Liyanage – Executive Director, Law and Society Trust
101.
Mandana Ismail Abeywickrema – Journalist/President, Sri Lanka

Journalists' Trade Union (SLJTU)
102.
Mano Ganesan – Convener, Civil Monitoring Commission (CivilMC)
103.
Manouri Pieris – Attorney-at-Law
107.
Mathuri Thamilmaran – Attorney-at-Law
111.
Michael O'Leary – Freelance Writer
115.
Mohammed Ajiwadeen – Research Officer/Parliament of Sri Lanka
116.
Mohammed Mahuruf – Secretariat for Muslims
117.
Muzzammil Cader – SAMADANA/M, Centre for Promoting Non Violence,

Conflict Resolution & Peace Building
119.
Nalliah Kumaraguruparan Ashokbharan – Law Student
122.
Nimalka Fernando – Women's Political Academy (Sri Lanka)
123.
Nirmal Ranjith Dewasiri
124.
Nirmanusan Balasundaram
125.
Nishelli Perera – Senior Strategy Analyst
129.
Padmini Weerasooriya – Mothers and Daughters of Lanka
135.
Prof. Navaratna Bandara
136.
Prof. Priyan Dias – University of Moratuwa
137.
Prof. Sumanasiri Liyanage – Principal (Retd.), Marx School
138.
Pushpalatha Paramasivam
139.
R.M.B. Senanayake – National Peace Council (NPC)
143.
Rajani Chandrasekaran – Jaffna
144.
Rajiva Wijesinha – Member of Parliament
145.
Ramla Ajmal Wahab – International Centre for Ethnic Studies (ICES)
147.
Renton de Alwis – Former Chairman, Sri Lanka Tourism
148.
Rev. Dr. Jayasiri Peiris
149.
Rev. Fr. Jeyabalan Croos
150.
Rev. Fr. Nandana Manatunga
151.
Rev. Fr. Reid Shelton Fernando
152.
Rev. Fr. S. M. Praveen (OMI)
154.
Rev. Fr. Sherard Jayawardane
155.
Rev. Fr. Terrence Fernando
156.
Rev. Fr. V. Yogeswaran – Centre for the Promotion & Protection of

Human Rights (CPPHR), Trincomalee
157.
Rev. Jason J. Selvaraja – Assembly of God, Chavakachcheri
158.
Rev. Sr. Deepa Fernando (HF)
159.
Rev. Sr. Helen Fernando
160.
Rev. Sr. Immaculate de Alwis
162.
Rohana Ratnayake – Senior Lecturer in Law, Open University of Sri

Lanka
166.
Ruvan Weerasinghe – University of Colombo
172.
Saliya Pieris – Attorney-at-Law
176.
Selyna Peiris – Attorney-at-Law
178.
Shariz Faleel – Manager – Finance & Administration, Secretariat for

Muslims (Guarantee) Ltd
181.
Shreen Saroor – Women's Action Network
182.
Shri Shankar Subramaniam
185.
Siritunga Jayasuriya – General Secretary, United Socialist Party
187.
Srinath Perera – Attorney-at-Law
190.
Sunanda Deshapriya – Journalist
192.
Supipi Jayawardena – Researcher & Lecturer
193.
Swarnalatha Subramaniam
196.
Thajun Mohamed Nishan – One Text Initiative
197.
Thanuka Nandasiri – Attorney-at-Law
200.
Upali Pannilage – Senior Lecturer, University of Ruhuna
203.
V. Jokeswaran – Teacher
204.
V.S. Ganesalingam – Attorney-at-Law
207.
Visaka Dharmadasa – Association of War Affected Women
August 15, 2013,Colombo, Sri Lanka