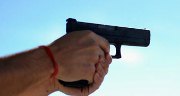 Police have still not a breakthrough into the shooting of two JVP supporters at a propaganda rally at Katuwana in Hambantota on Friday. JVP parliamentarian Vijitha Herath yesterday charged that the notorious terror gang led by 'Ghulampitiye Wije' was behind the killings. "The goons used T56 rifles to open fire on the crowd at the meeting".

Attorney at Law and Media Secretary of Intellectuals for Human Rights (IHR) Chaminda Gunasekera in a press release stated that "IHR considers the brutal attack on a political meeting of the Peoples Liberation Front (JVP), which killed two persons and injured several others as an attack on the democratic political system of the country".
"According to our information T56 automatic rifles have been used by the assassins and they have come on motor cycles. The nature of this attack in broad daylight and the failure of the police to arrest the attackers raises suspicion over the objective of this attack and the forces behind it. Therefore, it is the government's responsibility to arrest respondents and protect the political freedom of the people", the release said.
IHR stressed that this is a serious threat to all political parties in this country and therefore all parties should work together to defeat these undemocratic moves. "We vehemently condemn the attack and urge the government to arrest those involved immediately".
JVP)Western Provincial Councilor Dr Nalindra Jayatissa had been presiding over the meeting with JVP Katuwana Pradeshiya Sabha member Ajith when the incident occurred.
By Franklin R. Satyapalan
IS