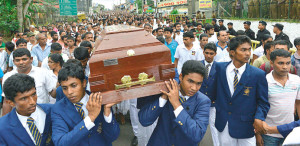 Students carry the coffin of their colleague, Akila Dinesh Jayawardena who was shot dead during
an army crackdown against people protesting tainted ground water in the village of Weliweriya
SANJAYA
Although Government authorities are downplaying the details about civilian casualties in the Weliweriya violence where soldiers of the 58 division and crack commando regiments launched a barbaric attack on unarmed civilians protesting against pollution of drinking water by emission of acid from a factory manufacturing gloves ,informed sources say the number of deaths and injuries is much higher than what is being officially stated.
It is alleged that the death toll is at least over seven whereas the official count is only three so far.Apparently the Govt is releasing details about deaths one at a time on a staggered basis without publicising the actual figures simultaneously.
Earlier the Govt said critically injured are receiving intensive care at the Colombo National Hospital. Thereafter they began releasing the names of the dead one by one at regular intervals in a bid to contain mounting resentment of the Sri Lankan public over the massacre of innocents in Gampaha district.
The first name revealed and body released was that of KA Akila Dinesh a 17-year-old student of Chandrajothi Vidyalaya, Yakkala. His funeral was held with Buddhist and Christian clergy participating and huge crowds attending.
The next two whose deaths were announced are Ravishan Perera (18) and Nilantha Bandara (29).
Ravishan was a student of St. Peter's College, Udugampola, preparing for the GCE A/L examination scheduled to commence on August 5th. Ravishan was among the onlookers. He received a gun shot injury to his head. He was taken to Gampaha Base Hospital and later transferred to National Hospital, Colombo.
Ravishan's uncle, Edwin Perera, told newspapers that his nephew had been watching TV when the protesters were marching past their house. Ravishan's parents were not at home at the time and he had gone to see the protest. His mother arrived at home and contacted Ravishan over his mobile phone. Ravishan said that he was watching the protest march near the Princowatte and promised to return home in a while, but he never came back.
Nilantha Bandara was a father of one and employed in an apparel factory in Biyagama.He had returned from work and had apparently gone out to buy a lime for a stomach ache and got caught up in the firing.
Apart from these three persons the authorities have allegedly withheld the names of another three persons reportedly dead according to unofficial sources. Their names are to be released gradually on a staggered basis.
All three received intensive care at the Colombo National Hospital.
The names and description of the three persons are –
Name Shantha Dinesh
Age -45 years
Residence : 230/7, Weliveriya
GHT No : 974/ 2013
Death due to gunshot injuries to the head and resultant brain hemorrhage . The shot had struck the left side of the skull above the ear.
Name : Sunanda Perera
Age : 37 years
Address : 1/58, Jayalath housing ,Weliveriya
GHT No. 983/2013
His head had been pierced with a sharp instrument with the result , a nerve below the right ear had been damaged.
Cause of death : Brain hemorrhage following the attack to the head from behind.

D D Siriwardena
Age :Unknown
Address : 75/1, Wilgolla , Pethiyagoda, Gampaha
GHT No. 987/2013
Cause of death : brain hemorrhage following the skull being broken by the attack with iron rods. A large fracture about 6 1/ 2 inches in size had occurred due to the assault.
In addition to these three persons it is alleged that at least four persons have died. The bodies are allegedly being kept at a reputed private hospital for reasons of secrecy and security.
Meanwhile the chief opposition United National Party ( UNP) has claimed that over seven persons have been killed during the clashes last week.The official figure maintained is that 3 persons had died with at least two others in critical condition.
UNP Communications Division Head and parliamentarian Mangala Samaraweera has said that according to reports, six people had died by Saturday August 3rd and that the figure rose further on Sunday August 4th .He has observed that the governmenment is now trying to hide the truth from the people and the world.
Samaraweera has charged that the government must respond to the question as to who gave the orders for the army to be sent in and use live bullets in a civil issue. "I would like to tell the Rajapaksa regime not to deceive the people and the world anymore and reveal the true figure on the number of deaths," he has said.
It is also alleged that the number of injured persons is much larger than what is revealed through media reports.
It is said that around 81 persons who received injuries in the military crackdown at Rathupaswala in Weliweriya are being treated at hospitals in Colombo, Ragama, Gampaha and Wathupitiwala. Over a hundred persons with comparatively minor injuries have received treatment and gone home.
In addition there are a large number of injured people who did not go to accredited hospitals for treatment due to fear of possible repercussions at the hands of security authorities. These persons said to be numbering around 150 – 200 have reportedly received treatment at private medical clinics or native physicians.
Another critical issue related to the military encounter of August 1st is that of people being reported missing. While a large number of persons have kept away from their residences in a bid to avoid a crackdown by security authorities several others particularly youths are reported missing. Their families are worried about their safety. It is said that over twenty youths are reported missing at the moment.
While some feel the missing persons may have gone underground to avoid possible arrest others fear that they have been detained "unofficially" by the authorities for intensive interrogation. The security authorities are very keen to establish a "conspiracy theory about external involvement"in the incident and therefore are likely to adopt unorthodox methods in pursuance.
Security personnel acting under the orders of a Brigadier and Colonel arrested a lot of persons during the night after enforcing an undeclared curfew and shutting off power. They moved under cover of darkness through side roads and lanes and scoured the area for suspects conducting a house to house search.
(Compiled from Reports in Newspapers and Websites)