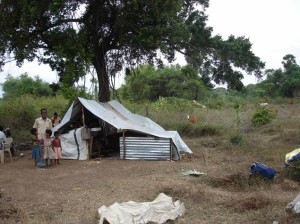 Recent photo of a resettled IDP family
Tamil National Alliance Chief Rajavarothiam Sampanthan today debunked the Sri Lankan government's claim that all of the nearly 300,000 internally displaced persons (IDPs) who vacated the Menik Farms have returned to their homes in the civil war-ravaged Northern and Eastern Provinces.

"At least 75,000 of the nearly 300,000 Tamils who were displaced by the civil war and vacated the Menik Farms are living either in transit camps or with their friends and relatives in the North and East," Sampanthan said in an exclusive interview to the Sunday Island here today.
A quarter of the IDP population is still roughing it up in 12 transit camps in the North and four in the East. These IDPs have not been able to go back to their original homes for a variety of reasons. One of them is the occupation of their homes by the security forces, he said.
Sampanthan complained that the government is not doing much even for those who have gone back to their original homes to help them settle down and get on with their lives.
Most of such homes are in a bad shape. Farmers and fishermen are finding it difficult to resume their activities because their agricultural implements, fishing nets and the like are in a bad shape. They need money to buy new farming equipment, fishing nets etc. What little the government is doling out is not enough, he added.
Sampanthan also charged that the non-governmental organisations (NGOs) who want to help the IDPs cannot operate freely. They need the Defence Ministry's permission for practically everything they want to do for the IDPs. They should be encouraged and given the freedom and leeway to do more, he opined.
The TNA leader expressed appreciation for what the Government of India is doing to help the IDPs resettle. "The Indian government is being careful and is making sure that whatever assistance it is rendering in the North and East reaches out to the right people," he said.
BY S VENKAT NARAYAN
IS