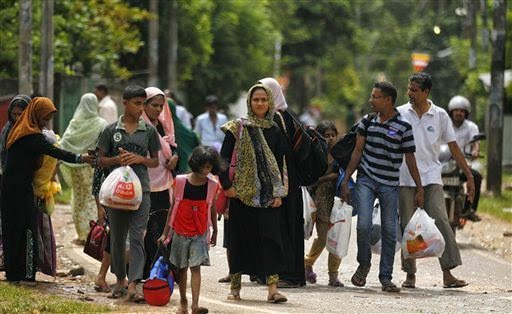 see more photos below (ap)
Associated Press
ALUTHGAMA, Sri Lanka — Hard-line Buddhists hurled gasoline bombs and looted homes and businesses in attacks in several Muslim towns in southwestern Sri Lanka, killing three Muslims and seriously wounding more than 50 people, authorities said Monday.The overnight attacks were led by a mob from Bodu Bala Sena, or Buddhist Power Force, which rails against the country's Muslim minority. The group has been gaining followers and is believed to enjoy state support. Gotabhaya Rajapaksa, Sri Lanka's powerful defense secretary and the president's brother, once made a public appearance supporting the group's cause.
The violence in the towns of Aluthgama, Darga Nagar and Beruwala erupted after a Sunday afternoon rally by Bodu Bala Sena. Video clips show the group's general secretary, the Rev. Galagoda Atte Gnanasara, telling the crowd that Muslim-owned shops were in danger.
Sithee Hameeda, a resident of Darga Nagar, said the mob broke into her home and stole jewelry and cash while her family hid in a room.
"Soon the house caught fire and we ran out because we could not stay with the smoke," she said. "We hid in the marsh and came back only after everything was over. Everything was destroyed. We were left only with the wet clothes we were wearing."
Associated Press journalists saw dozens of shops gutted, as well as motorbikes and bicycles piled up and set on fire in the rampage. Residents said mosques were also defaced.
Speaking to reporters in Colombo, Gnanasara said the Buddhists were angry over an alleged attack on the driver of a Buddhist monk.
"When people heard it they went out of control," Gnanasara said. "This is natural because the people were under a lot of pressure."
Justice Minister Rauf Hakeem accused his own government of failing to protect Muslims.
"The law-and-order mechanism has failed to protect innocent people," Hakeem said.
He said three Muslims died in the violence. Police spokesman Ajith Rohana said 51 people were hospitalized with injuries.
President Mahinda Rajapaksa, who is visiting Bolivia, promised an investigation into the violence.
Sri Lanka is still deeply scarred by its 1983-2009 civil war between the Buddhist Sinhalese majority and ethnic Tamil rebels, who are largely Hindu, but Buddhist-Muslim violence has been relatively rare.
The U.S. Embassy in Colombo condemned the violence and urged restraint by all sides.
The monks leading Bodu Bala Sena have amassed a huge following in recent years, drawing thousands of fist-pumping followers to rallies.
There have been few if any physical attacks on people, unlike in Myanmar, where Buddhist monks helped incite violence in 2012 and 2013 in which Buddhist mobs slaughtered Rohingya Muslims. But many Sri Lankans and human rights workers are alarmed, saying the monks are creating communal divisions and giving Buddhism a bad name.
Officials imposed an indefinite curfew.
Associated Press writer Krishan Francis in Colombo contributed to this report
By BHARATHA MALLAWARACHI