Images from the Video posted by "Maatram"
We fled to Paliyaru because of shelling. Subsequently there was shelling in that region too. Therefore, we moved to Jeyapuram along with the people. There was shelling there too. Then we fled to Kondavil. That area too came under shell attacks. 
Then we fled to Chinna Vddakachchi. We gradually fled until Puthumathalan. Finally, we fled to Mullivaikkal. There was heavy fighting and we could not bear it. We were helpless. The people too were fleeing the area. There was a bridge beyond Mulivaikkal. We had to find the road and travel. There were army personnel there. We tracked the road and continued to travel with the intention of saving our children. 
We were then taken to an army camp. Then we were screened one by one and put in a bus. We were then brought to a camp. We were there for a few days. Then we were asked to return to our own villages. 
I put up a small cottage and stayed here. As days progressed, I needed money. Therefore, I did some odd jobs such as cutting figs etc.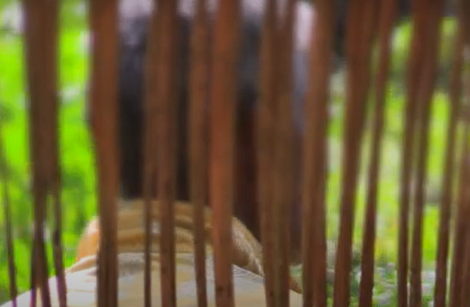 I was told that one of the boys had stated that I was with them. His name was (censored). I was taken to a camp in Silavaththurai. They questioned me. I said I did not know anything. I had nothing to say. What can I say? I told them to do what they want. They waited for two days and asked me to get the weapons from them. I said they wouldn't give and that I did not know anything about it. 
They waited for a while. A higher-ranking official came and said that I was of no use to them and subsequently asked me to leave. He dropped me off at the camp and I returned home. 
I continued my life for six to seven months without any problems. Then a white van arrived. I was out in the field and came to house when I saw the van. I once again told them that I did not know anything. There were two people who had come in the van. I was told they were members of the movement (LTTE). They said that I too was with them. I told that I was not with them, but I would help them out if they wanted anything fixed or repaired. They won't recruit me. I did not have any cyanide capsules or any of the stuff they had. 
I told them that I had nothing to say and asked them to do what wanted to do. They took me along with them. I was taken to Vavuniya and was kept there for a day. They did not interrogate me in Vavuniya. They took me to Colombo the following day in the same van. They kept in Colombo that night up until midnight. I was then handed over to the Boossa camp. 
They used to interrogate me every other day at Boossa. I was asked questions like, "Do you have ammunition? Do you have weapons? Weren't you a member of the movement (LTTE)?"
I told them that I indeed knew who or what the movement was. I told them that I have seen them roaming on the roads. I also told that they do not bother about us. I said, we can't talk to them. They would hit us if we talk to them. we can't go and talk to them as and when we want. 
I was kept at Boossa for one year. I was then moved to the sixth floor (CID). Then they said that I had to be sent for rehabilitation. However, one of the high-ranking officers of the CID said that I cannot be sent there. He said that I had to be questioned more. I was upset (aiyaiyo). I asked him what they needed me for. I told them that I had no information to give them. I told him that if they sent me for rehabilitation, I would go there and go home. But they remanded me again. 
After I was remanded, I would go for court hearings once a month. I had no one to appear and argue on my behalf. I did not have any money. I did not have any lawyers. They wouldn't ask anything or do anything during those hearings. They would just postpone the case for another day. At times, the hearings are postponed by a month, sometimes two or three. Once they postpone and fix a date, that's it. the decision won't change even if the lawyers speak. They would handcuff me and take me back. The same thing would happen in the following hearing as well. 
When they interrogated me, they asked if I had weapons or ammunition. I should have them in the first place for me to hand them over. This is the only that they asked from me the whole time. I didn't have any of them. 
They responded saying that I would have known something. They asked me if I helped them by identifying the routes. I responded saying they do not need me for that. I told them that they had their own equipment such as compasses to identify the routes. I asked them how they identified routes, and whether they sought assistance from anyone ton show them the routes. I stated that like them, they (LTTE) too had their own equipment to locate routes. 
I asked what could I do, since I was dragged into this so those who implicated me could escape. I told them to do what they have to do. You write and I will sign. I have no choice but to sign.
I have three sons. They go to load the sand. My wife obtained some money through the housing schemes. That is how we got money to spend for us. She would go to houses to cook for them. they would pay her for her work. 
Two of my sons are married. They live nearby. They are into farming. I am old now. Yes, I am sad. 
How would you feel if you underwent something like this for 11 years? I used to worry about my home and how life would turn out to be. I used to worry day and night.  
Whenever I worried, those who were with me would tell me not to worry. They would tell us that if we had to die, we would die. They would advise that I would not gain anything by worrying. 
My chest would feel heavy whenever they said that they would not release me. It would be so painful. I would worry about what they would do next. There have been times when I have thought it would be better if they shoot and kill me. then everything would be done away with. 
I was 58 years old when I was taken in. I was 71 when I came out. I have passed my prime. There is nothing I can do now. I do not have the strength to do anything. In addition, I have ulcer. I cannot lift heavy items. I cannot do work which is hard on my body. I can walk, or I can sit at a place. This is how I spend my life. I can only live with my children. Who else can I live with? I have no choice but to be with them. They are the ones who would bury me after I'm dead.
(Transcript of Selvarathinam's story as he relates to Maatram Editor Selvaraja Rajasegar)
Courtesy GroundViews.