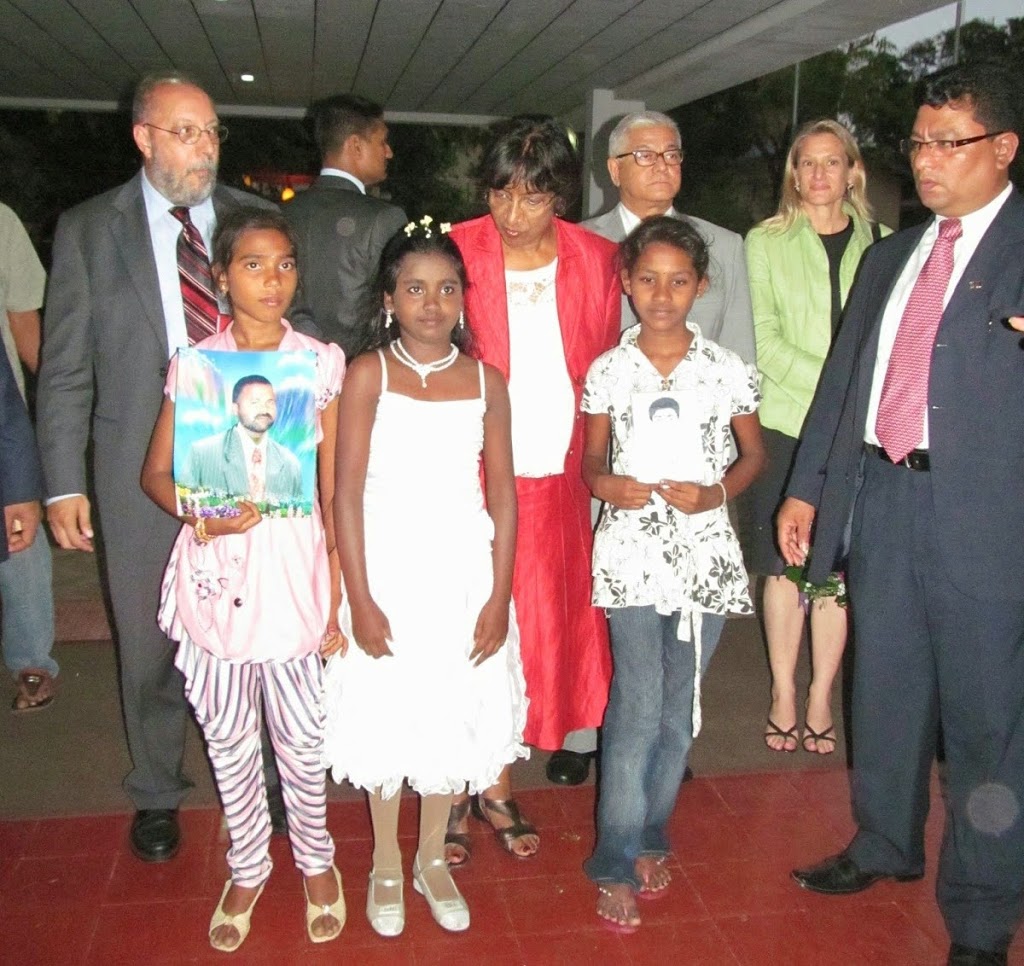 HC Navi Pillay is being welcomed by Vibhushika Palendran (13),
(right) who was arressed withher mother HRD Jayakumari
19th March, 2014
Statement condemning the arbitrary arrest and detention of Human Rights Defenders, Ruki Fernando, Father Praveen Mahesan, victims and their families
We, the undersigned welcome the release of prominent Sri Lankan Human Rights Defenders (HRDs) Ruki Fernando and Fr. Praveen Mahesan on 19th March 2014. We however strongly condemn their arbitrary arrest and detention by the Terrorism Investigation Division (TID) in Kilinochchi (Northern Province) on 16th March 2014. We also note, that this release was an exception to the general pattern, and was only made possible by sustained pressure and efforts by a wide range of individuals, organizations and Governments advocating with the Sri Lankan Government to secure their release.
We view with grave concern the arrest and detention of Nitharshana of Visuwamadu on 12th March, Balendran Jeyakumari of Dharmapuram Killinochchi and K. Sharmila of Paalai Ootru, Trincomalee both on 13th March, and call for them to be charged or released under ordinary law and to ensure their physical safety.
We condemn all such acts of arrest and intimidation against activists, victims and their families, particularly in the North and East, coinciding with the UN Human Rights Council sessions in Geneva.
Ruki Fernando is an activist affiliated with a number of institutions including the Rights Now- Collective for Democracy and Inform Human Rights Documentation Center. Fr. Praveen Mahesan, is a Catholic priest based in the North of Sri Lanka. Both HRDs have worked closely with victims of human rights violations including families of the disappeared in former war affected areas in the North and East of Sri Lanka. Their work has focused on supporting the families of victims of human rights abuses: to listen to their stories, to find ways of supporting the families of the missing and to find redress and help them file complaints. Their accessibility and their personal commitment to the victims of human rights in the North and East in particular, earned the respect of conflict affected communities and activists within and outside Sri Lanka.
At around 10 pm on 16th March, Ruki informed several colleagues that he and Fr. Praveen were being questioned at the Kilinochchi Police Station. Despite appeals by their lawyers for information on their whereabouts, the police and the TID provided deliberate misinformation as to where the HRDs were being held and no reasons were provided for their arrest. We are now informed that following their arrest, the HRDs were harshly interrogated by the TID at the Killinochchi Police Station for around three hours and taken to the office of the Superintendant of Police in Vavuniya where they were held for around two hours before being brought to Colombo. The HRDs were brought to the TID office in Colombo at around 11.30 am on 17th March and held and questioned until their release at around 1.30 am on 19th March 2014. Ruki Fernando was extensively questioned on his human rights work, specifically his involvement in sending information to be used at the Human Rights Council Session in Geneva.
We view with concern that for the entire period of their detention, both HRDs were denied access to their lawyers despite repeated requests by Ruki Fernando initially at the point of arrest in Killinochchi and later at the TID in Colombo, to the Officer in Charge TID and the Deputy Inspector General TID. Ruki Fernando in his statement to the National Human Rights Commission (NHRC) officers at the TID in Colombo, among other requests, asked that he be allowed access to his lawyers. Several lawyers personally visited the TID in Colombo and also made a written request on 17th March based on instructions and assurances given by the TID. On 18th March, the lawyers filed a complaint No HRC 1254/14 with the National Human Rights Commission (NHRC) regarding the denial of access. Despite these efforts and assurances by the TID, the lawyers were never permitted access to visit Ruki Fernando or Fr. Praveen during their detention.
Ruki Fernando's parents were delivered a notice of arrest at around 11.00 am on 17th March. Both HRDs immediate family was permitted to meet them for a few minutes in the presence of TID officer. Fr. Praveen was also permitted a visit by two Catholic Priests on 18th March. Ruki Fernando's parents filed a complaint under No. HRC/1255/14 with the NHRC on 18th March 2014 regarding his arbitrary arrest and detention.
The arrest of the two HRDs takes place against the backdrop of several arrests and acts of intimidation against HRDs and families of victims and a marked increase in military presence and surveillance in the North. On 12th March, a family of three from Visuwamadu, were arrested by the TID and the daughter Nitharshana (28 years) is currently detained at an undisclosed location. On 13th March, Balendran Jeyakumari was arrested by the TID from Tharmapuram, Kilinochchi and her 13 year old daughter was placed under State probation. Jeyakumari is currently detained at the Boosa Detention Centre. On 13th March, K. Sharmila, a pregnant woman from Paalai Ootru, Trincomalee was arrested by the TID and is also now being held at the Boosa detention centre. The human rights community has been closely monitoring similar incidents of arrests and intimidation of victims and their families and activists. Ruki and Fr. Praveen have been among those who were keenly following these incidents in the North.
We condemn the arbitrary arrest and detention of Ruki Fernando, Fr. Praveen Mahesan and call for the immediate release of all those mentioned above. We are shocked at the treatment of these individuals as they have worked towards reconciliation and creating a culture of peace and respect for human rights.
We are extremely concerned about the increased incidents of arbitrary arrest and detention particularly the lack of information regarding reasons for arrest, place of detention and the lack of access to legal representation. We also reiterate our call to repeal the repressive Prevention of Terrorism Act (PTA), which facilitates the State to carry out such arbitrary and illegal arrests and detentions. Such treatment of HRDs and victims, only serve to perpetuate the climate of fear and insecurity of conflict affected communities. We see these as systematic attempts of intimidation aimed at preventing persons from coming forward to volunteer information, verify acts of human rights violations and advocate on behalf of those affected in Sri Lanka.
We therefore call on the Sri Lankan Government to:

– Charge or release with immediate effect all those who are arbitrarily arrested and detained

– Ensure their right to equality before the law, freedom from arbitrary arrest and right to due process, which includes the right to legal representation and visits by their family members

– Ensure the safety, and physical and mental wellbeing of those currently held in detention including access to medical care

– Provide an enabling environment for reconciliation and protection and not criminalize legitimate acts of support for survivors of human rights abuses

– Repeal the Prevention of Terrorism Act (PTA)
Signatures;
1. Rt. Rev. Dr. Rayappu Joseph – Catholic Bishop of Mannar
2. Rt. Rev. Kumara Illangasinghe – Anglican Bishop Emeritus of Kurunegala
3. A. De Silva
4. A.M. Faaiz – Attorney-at-Law
5. A.S.M Rayees – Human Rights Activist
6. Ahila
7. Ahilan Kadirgamar
8. Ainslie Joseph
9. Ajith Rajapaksha
10. Amal de Chickera
11. Anjani Ranasinghe
12. Anoma de Alwis
13. Anthony Jesudasan
14. Anton Marcus – Joint Secretary, Free Trade Zones and General Services Workers Union
15. Anushaya Collure
16. Arjini Nawal
17. Ashila Niroshine Mapalagama – StandUp Movement
18. Asiri Jayatilake – Attorney-at-Law
19. Asitha De Silva
20. Ayeshea Perera
21. B. Skanthakumar
22. Beryl Perera
23. Bhagya Perera
24. Bhavani Fonseka
25. Bradman Weerakoon
26. Brito Fernando
27. Buddhima Padmasiri
28. C. Dissanayake
29. Cayathri D. – Feminist Activist
30. Chamila Hameed
31. Chamila Thushari
32. Chamindry Saparamadu – Attorney-at-Law
33. Chamith Fonseka – Harvard University
34. Chandana Kumara
35. Chandraguptha Thenuwara – Artist & Senior Lecturer
36. Chandrika De Silva
37. Charles Sarvan
38. Chulani Kodikara
39. D.B.S Jeyaraj – Journalist
40. Damaris Wickremesekera
41. Danushka Cooray
42. Daya Herath
43. Deanne Uyangoda
44. Delicia Fernando
45. Dhammika de Silva – United Socialist Party (USP)
46. Dharmasiri Lankapeli – General Secretary, Federation of Media Employees' Trade Union
47. Dharsha Jegatheeswaran
48. Dileni Gunewardena Ph.D. – University of Peradeniya
49. Dilhara Pathirana – Law & Society Trust
50. Dilshy Banu
51. Dinidu de Alwis – Editor, The Republic Square
52. Dishani Jayaweera – Attorney-at-Law
53. Dr. Anita Nesiah
54. Dr. D. S. Rajasingham
55. Dr. Devanesan Nesiah
56. Dr. Dharmasena Pathiraja
57. Dr. Laksiri Fernando
58. Dr. Paikiasothy Saravanamuttu – Executive Director, Centre for Policy Alternatives (CPA)
59. Dr. Selvy Thiruchandran – Women's Education and Research Centre (WERC)
60. Dr. Sonali Perera – City University of New York
61. Dr. Sumathy Sivamohan – Peradeniya
62. Dr. Sunil Wijesiriwardena
63. Dr. Vinoth Ramachandra
64. Dr. Zulfika Ismail
65. Dushiyanthini Kanagasabapathipillai
66. Dylan Perera
67. Emil van der Poorten – "A believer in human rights"
68. Ermiza Tegal – Attorney-at-Law
69. Faizun Zackariya
70. Farzana Haniffa
71. Freddy C. Gamage
72. G.A. Prabath Kumara – Senior Civil Activist, Badulla
73. G.C. Ambegoda
74. Gamini Viyangoda
75. Gayathri Gamage
76. Gehan Gunatillake
77. Githanjali Amarasingham Algama
78. Hans Billimoria
79. Harean Hettiarachchi
80. Hemalatha
81. Herman Kumara
82. Hilmy Ahamed
83. Ian Ferdinands
84. Indika Ruwan
85. Indrakanthi Perera
86. Indunil Kankanamghe
87. Iromi Perera
88. Isuru Perera
89. Ithayarani Sithravel
90. J. Vasuki – Feminist Activist, Batticaloa
91. J.S Niles
92. J.S. Tissainayagam
93. Jagath Liyana Arachchi – Attorney-at-Law
94. Jake Oorloff
95. Jan Ramesh de Saram
96. Janaki Dharmasena
97. Jayasingam. T
98. Jehan Perera
99. Joe William
100. Johann Tranchell
101. Joseph Stalin – Ceylon Teacher's Union
102. Jovita Arulanantham
103. Juanita Arulanantham – Attorney-at-Law
104. Juliana Arulanantham
105. Juwairiya Mohideen
106. K. Aingkaran
107. K.S. Ratnavale – Attorney-at-Law – Centre for Human Rights and Development
108. Kalani Subasinghe
109. Kandiah Rajaledsumi – Women Right Activities
110. Kapila De Silva
111. Keshayinie Edmund – Journalist
112. Krishanthi Fernando
113. Krishna Velupillai
114. Kumara Alagiyawanna – Journalist (Secretary – FMM)
115. Kumaran Nadesan
116. Kumaravadivel Guruparan
117. Kumari Fernando
118. Kumudini Kalubowila
119. Kumudini Samuel
120. Kusal Perera – Journalist
121. Lawrence Ferdinando
122. Lesley Sirimane
123. Linus Jayatilake – President, United Federation of Labour
124. Lionel Bopage
125. Lucille Abeykoon
126. Luwie Niranjan
127. M. G. Chakramani – Citizens for a Secure Sri Lanka
128. M. Gajen
129. M. Mangaleswary – Attorney-at-Law
130. M. Rahman – Mannar
131. M.A. Sumanthiran – Attorney-at-Law
132. Mahaluxmy K. – Mannar
133. Mala Liyanage – Executive Director, Law and Society Trust (LST)
134. Malathi de Alwis
135. Manjula Pathiraja – Attorney-at-Law
136. Manori Kalugampitiya – Rights Now and Editor of Samabima news
137. Mareen Srinika
138. Mario Gomez
139. Marisa de Silva
140. Melani Manel Perera
141. Melisha Yapa
142. Minari Fernando
143. Minoli de Soysa
144. Mirak Raheem
145. Miyuru Gunasinghe
146. Mohamed Rifadh – Jaffna
147. Mohammed Mahuruf
148. Monica Alfred
149. Nalaka Gunawardene – Writer & Columnist
150. Nalini Sivathasan
151. Namal Rajapaksha – Attorney-at-Law
152. Nandana Egodapitiya
153. Navin Weeraratne
154. Neil Priyantha Fernando
155. Nianjala Ariyawansha
156. Nicola Perera
157. Niduk Madushika
158. Nigel V. Nugawela
159. Nihal R. Peris – C.S.R
160. Nilantha Ilangamuwa – Journalist
161. Nilshan Fonseka
162. Nimalee Fernando
163. Nimalka Fernando
164. Nipunika Fernando
165. Nirmanusan Balasundaram – Freelance Journalist
166. Nishan de Mel
167. Nisho Fonseka
168. Niyanthini Kadirgamar
169. Niyesha Ranasinghe
170. Nuwan Bopage – Attorney-at-Law
171. P. Hewamanna
172. P. Vijayashanthan – Artistic Director, Theatre
173. P.N. Singham
174. Padma Pushpakanthi
175. Panhirala Somasiri
176. Parakrama Niriella – Drama and Film Director
177. Pearl Luctia
178. Peter Rezel – Concerned Professional
179. Philip Setunga
180. Phillip Dissanayake
181. Prabu Deepan
182. Prasad Pereira
183. Prasad Sanjeewa Gamage
184. Prasanna Amarasinghe
185. Prathibha Perera
186. Princy Fernando
187. Priya Thangarajah
188. Priyadarshne Aryarathne
189. Priyantha Gamage – Attorney-at-Law
190. Priyanthi Fernando
191. Prof. Ajit Abeysekera
192. Prof. Dushyanthi Hoole
193. Prof. Jayantha Seneviratne – University of Kelaniya
194. Prof. Priyan Dias
195. Prof. Qadri Ismail – Associate Professor, University of Minnesota
196. Pushparani Figurado – Law and Society Trust
197. R. Karunanithy – Social Worker, Jaffna
198. R. Pratheepkumar – Mannar
199. R.M.B. Senanayake – Retired CCS
200. Rajany Chandrasegaram – Women Rights Activist, North
201. Ralston Weinman
202. Rashini Mendis
203. Rathika Innasimuttu – The Social Architects
204. Rebecca de Alwis
205. Renu Alakenthiram
206. Rev. Bro. Anton Fernandopulle
207. Rev. Fr. A. Augustine – Jaffna
208. Rev. Fr. Anton Jayananda – Christian Solidarity Movement (CSM)
209. Rev. Fr. Ashok Stephen – Centre for Society and Religion
210. Rev. Fr. Elil Rajendram, SJ – Vavuniya
211. Rev. Fr. Jeyabalan Croos
212. Rev. Fr. M. Sathivel
213. Rev. Fr. Nandana Devapriya
214. Rev. Fr. Nandana Manatunga
215. Rev. Fr. Reid Shelton Fernando
216. Rev. Fr. Rohan Dominic
217. Rev. Fr. S. V.B. Mangalarajah, Jaffna
218. Rev. Fr. Sarath Iddamalgoda – Christian Solidarity Movement (CSM)
219. Rev. Fr. Sebamalai Emmanuel – Mannar
220. Rev. Fr. Sherard Jayawardane
221. Rev. Fr. Stanislaus Philips
222. Rev. Fr. Terence Fernando
223. Rev. Fr. V. Yogeswaran, SJ – Trincomalee
224. Rev. Jason J. Selvaraja – Senior Pastor, Assembly of God, Chavakachcheri
225. Rev. Sr. Angela Fernando – Christian Solidarity Movement (CSM)
226. Rev. Sr. Deepa Fernando (HF)
227. Rev. Sr. Deepthika Silva
228. Rev. Sr. Helen Fernando (HF)
229. Rev. Sr. Immaculate de Alwis
230. Rev. Sr. Nichola
231. Rev. Sr. Noel Christine Fernando – Sramabimani Sansadaya
232. Rev. Sr. Pradeepika Perera
233. Rev. Sr. Ramani Fernando
234. Rev. Sr. Shrimali Gonagala – S.C.J.M
235. Rohini Hensman – Writer and Activist
236. Ronnate D. Asirwatham
237. Ronnie Yogarajah
238. Rosannna Flamer-Caldera
239. Roshani Fernandopulle
240. S. Amarasinghe – Deputy General Secretary, United Federation of Labour
241. S. Ockersz – Attorney-at-Law
242. S. R. Perera
243. S. Ratnajeevan H. Hoole – Michigan State University
244. S.A. Beling
245. S.G. Nisha – Young Women Rights Activist, Mannar
246. Sachini Perera
247. Sampath Pushpakumara
248. Sampath Samarakoon
249. Sanjana Hattotuwa – Editor, Groundviews
250. Sanjaya Senanayake – Documentary Producer
251. Sanjayan Rajasingham – Student
252. Sanjendra Vignaraja – Attorney-at-Law
253. Sarala Emmanuel
254. Saranapala Silva
255. Saroja Sivachandran
256. Sathy Kulasingham
257. Selvarajah Rajasegar
258. Shan Wijetunge – Transparency International Sri Lanka
259. Shanthi Dias
260. Sharika Thiranagama
261. Shehan Madawela
262. Sheila Richards
263. Sherine Xavier – Human Rights Activist
264. Shiro Perera
265. Shreen Abdul Saroor – Women's Action Network (WAN)
266. Siritunga Jayasuriya – United Socialist Party (USP)
267. Suba Sivakumaran
268. Subha Wijesiriwardena
269. Subhashini Samaraarachchi
270. Sudarshana Gunawardena
271. Sujith Xavier – Assistant Professor of Law, Faculty of Law, University of Windsor
272. Sumith Chaaminda
273. Sunanda Deshapriya
274. Sundram Mahendran – Director, Committee of Investigation of Disappearances
275. Sunila Jayasekara – Free Media Movement
276. Suren D. Perera – Attorney-at-Law
277. Suren Fernando – Attorney-at-Law
278. Sushmitha Thayanandan
279. T. Mathuri – Attorney-at-Law
280. T. Savithri
281. Taanya Tranchell
282. Tanuja Thurairajah – Researcher/Activist
283. Tanya Rajapakse
284. Tehani Ariyaratne
285. Thiruni Kelegama
286. Thushara Hewage – Columbia University
287. Thushari Madahapola
288. Thushya Shah
289. Thyagi Ruwanpathirana
290. Tisaranee Gunasekara – Commentator
291. Tony Senewiratne
292. Udaya Kalupathirana
293. Udul Premarathna – Attorney-at-Law
294. Upul Wickramasinghe
295. Uthaya Shanmugam
296. V. Sanjeev
297. V.V. Ganeshananthan
298. Vadivel Suganthi
299. Vasuki Nesiah – Assoc. Prof. of Practice, New York University
300. Venuri Perera
301. Vijula Arulanantham
302. Vinoth Adhikari
303. Viresh Fernando – Barrister & Solicitor
304. Visaka Dharmadasa
305. Visakha Tillekerathne
306. W.A.D.D. Pradeep
307. W.F. Priyankara Costa
308. YaliniDream
309. Yamini Ravindran – Attorney-at-Law
310. Yasodara Aruni Jayakody
311. Zainab Ibrahim
Photo: United Nations High Commissioner for Human Rights Navaneetham Pillay is being welcomed by Vibhushika Palendran (whose two elders brothers were killed in the war, and the third brother has gone missing after surrendering to the security forces towards the end of the war), along with two other girls, to an event to mark the International Day of the Disappeared