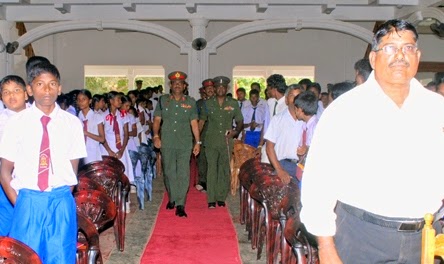 (Photo: Army.lk)
The Sri Lankan Army held a workshop for schoolchildren in Kilinochchi on Saturday, to "enlighten students" on telecommunication, according to their
website
.
Troops from the 9 Sri Lanka Signal Corps organised the event, which was attended by senior military commanders, including Major General Sudantha Ranasinghe, Commander of the Sri Lankan Security Forces in Kilinochchi.
In December, The Education Minister and Agriculture Minister of the Northern Provincial Council, Kurukularaja and Iyngaranesan, condemned the Sri Lankan military involvement in civil affairs, especially the affairs of schoolchildren in the North. They stated,
"There is no reason whatsoever for the Sri Lankan army to enter schools in the North. If they wish to help they should via the Education Department. Instead, most of the military go directly into the schools and offer help. Not only does this affect the natural state, but it affects the mental state of the students when the army enter the schools.