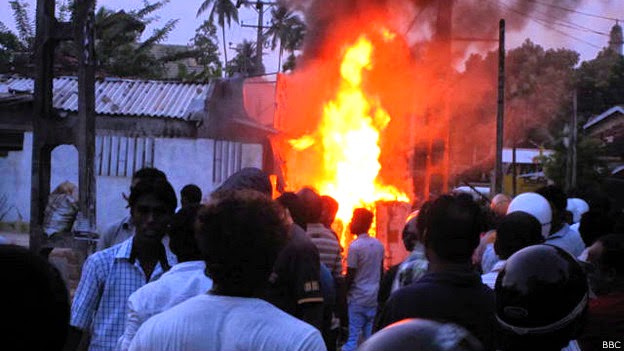 Anti-Muslim violence in what were once idyllic tourist spots on the southern Sri Lankan coast has once again underscored the majoritarianism that has dominated the politics of the country since the end of the war against the LTTE in 2009. Four people were killed and scores injured, and houses and businesses looted and burnt over two days. The violence, clearly instigated by a recently formed extremist Buddhist organisation called the Bodu Bala Sena, affected the seaside towns of Aluthgama and Beruwala.
It was serious enough for the government to declare a curfew and call out the Army and a special police force to maintain the peace, perhaps for the first time in that part of the country since the violent JVP insurrection of the 1980s. But for over two years, the Sri Lankan government had chosen to ignore the provocative activities of the BBS, doing nothing to rein it in despite a body of evidence that the group was involved in previous incidents targeting mainly the Muslim minority, and also Christians. Instead, both President Mahinda Rajapaksa and his powerful brother, Defence Secretary Gotabaya Rajapaksa, visited the office of the BBS on separate occasions, signalling powerful patronage and giving it a stamp of legitimacy.
Anti-Muslim tension had been brewing in Aluthgama ever since an altercation between three Muslim men and a Buddhist monk last week. Many sensible voices in the area, and in Sri Lanka's wider civil society, pleaded against permitting the BBS to hold a rally there on June 15. Their fears came true as the violence began immediately after a particularly provocative anti-minority speech by a Buddhist monk. Armed policemen who were deployed at the rally did hardly anything to bring the situation under control.
Having recently emerged from a long war and still mired in a host of issues relating to that conflict, including the unsettled question of Tamil political aspirations that first gave rise to it, Sri Lanka could have done far better with the opportunity it had to remake itself. Instead, the narrow political ambitions of its leaders to consolidate majority sentiment seem to be driving the Sinhala nationalist desire for new enemies.
Already on watch by the world for his handling of post-war Tamil issues, President Rajapaksa is once again on the mat for being stand-offish while another minority was being targeted. Since then, he has visited the affected areas and promised compensation. But no formal condemnation of the violence, or of those behind it, has been forthcoming from the government. There is still time to nip this in the bud, but for that the President will have to do more than merely send out messages on social media that 'we can't let anyone harm any person or property.'