By Ashwin Hemmathagama
The Mahinda Rajap-aksa International Cricket Stadium at Sooriyawewa became the subject of heated debate in Parliament yesterday after the United National Party charged that the Government had stopped repaying loans borrowed to construct what he called a white elephant stadium.
UNP MP Ravi Karunanayake said four mega development projects in Hambantota opened amid much fanfare had provided Sri Lanka very little benefit.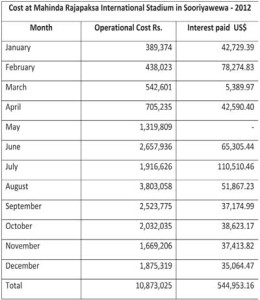 1
Karunanayake named the Magampura Mahinda Rajapaksa Port, Mattala Rajapaksa International Airport, Magampura Ruhuna International Convention Centre Hall and the Mahinda Rajapaksa stadium as being constructed with high interest loans that the Government was now having trouble paying back.
"What you need in Hambantota is tanks, not stadiums. You are trying to repay these loans with the taxes collected by taxing people's essential items. The stadium is one more in the list of Hambantota white elephants. The district now has a port that has no ships calling in, an airport without flights, a convention centre that was built for CHOGM, and finally the Sooriyawewa Stadium that has held only 10 cricket matches from the day it was built," he charged.
Karunanayake charged that the Government was using the money of innocent taxpayers to pay for ill-advised, unsuccessful projects.
The Sooriyawewa Mahinda Rajapaksa stadium had been built at a cost of Rs. 700 million on a 47-acre land providing 32,000 seating facilities for the spectators.
According to Minister of Sports Mahindananda Aluthgamage, the capital cost of borrowing is LIBOR (three months) + 6% per annum and US$ 8 million out of the loan will be settled by the end of 2015 and the remaining US$8 million by February 2017.
"We haven't used the money from the Ports Authority but have obtained a loan from a different party. This stadium was built to accommodate the matches during the 2006 World Cup. Part of the borrowings were paid by the Cricket Board and we have requested the Government assistance to settle the remainder. All investments need time to flourish and provide a return," said Minister Aluthgamage.