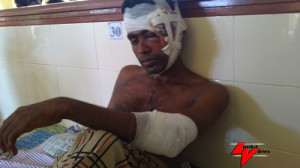 Just days after the assault of a student leader in Jaffna, another undergraduate was stoned by unknown persons at Punagari Junction in Paranthan. Twenty six-year-old R. Kavdas was admitted to Kilinochchi with serious head injuries at 24th October.

He was later transferred to Jaffna Base Hospital.
Kavdas has been a participant of agitations against the assault on the student leader S. Thavapalasingham eight days ago.
The military has recorded the protests and several other participants too, have been threatened by unidentified men.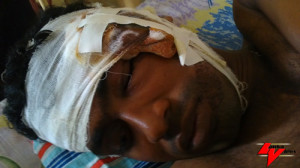 Another student from Jaffna University attacked by 'thugs'
R. Kavidas, a student of Jaffna University, has been attacked by thugs at Poonaryn Junction at Paranthan yesterday (25th). The student received serious injuries on his head and was admitted to Killinochchi Hospital. However, as his condition was serious he was transferred to Jaffna Base Hospital later.

Kavidas was a main activist in agitations held against the thug attack on the 16th on Thavapalan, the President of the Students' Council of the Jaffna University. It is reported that security sections videoed those who participated in the agitations and from time to time those who participated in agitation are being threatened with death.
University students say the government is responsible for the attack on Kavidas.
LT