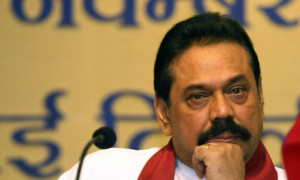 On September 4, Judge Naomi Buchwald of the Southern District of New York dismissed an Alien Tort Statute suit against President Mahinda Rajapaksa of Sri Lanka, on the basis of a Suggestion of Immunity filed by the Justice Department, at the request of the State Department Legal Adviser. Under customary international law and longstanding U.S. practice, sitting heads of state or government are considered to have immunity from civil suits in U.S. courts.

This is the second human rights suit against President Rajapaksa to be dismissed this year based on a U.S. Suggestion of Immunity. As I explained here, in February, Judge Kollar-Kotelly of the U.S. District Court for the District of Columbia dismissed a TVPA suit against Rajapaksa, based on a virtually identical Justice Department request.
The Justice and State Departments seem to have acted much more quickly in responding to the request of the Government of Sri Lanka for a Suggestion of Immunity in this case. The suit was filed in September 2011 by the widow of an LTTE member who was allegedly captured and then killed by Sri Lankan armed forces; the Justice Department filed its Suggestion of Immunity on April 26, apparently without being asked by the Court.
Judge Buchwald's decision is also notable for her rejection of the plaintiff's argument that head of state immunity should not shield officials accused of jus cogens violations. Many human rights lawyers, who are understandably uncomfortable that customary international law principles of immunity are in tension with efforts to hold senior government officials accountable for human rights violations, have urged that immunity principles should not apply to serious violations of human rights. But Judge Buchwald said: "Here, plaintiff and Amicus seek to impose civil liability on a sitting head of state in a domestic forum, a proposition that has been soundly rejected by U.S. courts, even in the context of alleged jus cogens violations."
Lawfare