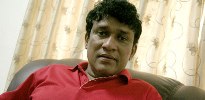 It is reported that the Leader of Sri Lanka's Democratic People's Front (DPF) and former parliamentarian Mano Ganesan has been attacked today when he was participating in a demonstration in Kotagala.

It is said that the assault has been taken place in a protest held by Sri Lanka's Up Country Trade Union Alliance (UTUA) in Kotagala Town in Nuwara Eliya district amidst police objections demanding a wage increase for the plantation workers.
The trade union coalition demands an increase of daily wage upto Rs. 520 for plantation workers.
Ganeshan told local media that some individuals threw stones at him and his supporters this morning when they were taking part in the protest staged.
The former MP said he received minor injuries to the hand and sought treatment at the Kotagala Hospital.
Ganeshan blamed the government ally Ceylon Workers Congress (CWC) for initiating the attack and called upon the police for an immediate investigation.
SLM
Thondaman's thugs attacked Ganeshan – Vasudeva
Leader of the Democratic Left Front (DLF), Vasudeva Nanayakkara, alleged yesterday that Minister Arumugam Thondaman's thugs had attacked Mano Ganeshan during a protest.
Nanayakkara said he will inform the President and request that necessary action be taken against the police officers who disrupted the protest organized by the Plantation Trade Union Federation (PTUF), yesterday (22), at Kotagala.
His Party's trade union also took part in the protest.
He said, "The PTUF had organized a protest demanding a daily wage of Rs 550 for plantation workers. During the protest, PTUF President, Mano Ganeshan, was attacked with stones and he was injured."
Minister Nanayakkara alleged some thugs who were sent by the Leader of the Ceylon Workers' Congress (CWC) and the Minister of Livestock and Rural Community Development, ArumugamThondaman, had attacked the protesters, but police had not taken any action against the culprits.
"The protest was organized to express the opposition of the PTUF to the agreement signed between the employers, the CWC and UNP affiliated trade unions, regarding the salary increment for estate workers. We are demanding a daily wage of Rs 550 for estate workers, whereas Thondaman has agreed to a daily wage of Rs 450," he said.
Nanayakkara also said, he received information about the attack against the protest and had informed the IGP, N.K. Ilangakoon. Yet, the police had not taken steps to prevent the attack on the protesters.
He stressed Minister Thondaman had no right to use government powers to control estate workers, and added he will urge the President to conduct an inquiry regarding the incident and take action against the culprits. He added, the PTUF, which was formed with the collaboration of 16 trade unions, will continue to fight for the rights of estate workers. "This will not stop until estate workers get a daily wage of Rs 550," he affirmed.
Representatives of the Nawa Sama Samaja Party (NSSP), Upcountry People's Front (UPF) and many other trade unions representing estate workers participated in the media briefing.
CT