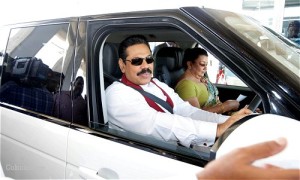 Rajapaksha driving on the high way
(LBO) Sri Lanka opened its second expressway Sunday linking the capital with the country's main international airport with some 250 million dollars borrowed from China.
The 25.8-kilometre four-lane road is expected to reduce travel time by more than half, but the for Sri Lankan tax payers it would be a long haul to repay the loan and finance the estimated $292 cost of the project.
At current market prices, the cost of the expressway is equivalent to nearly seven tonnes of pure gold. The cost of a kilometre of highway is a staggering $11.31 million, or nearly 1,500 million rupees.
If the government paid the bill in brand-new 1,000 rupee notes, they would have to deliver 35 tonnes of cash. Despite the staggering cost, the expressway would be welcome by passengers hurrying to get out of the country.
The Katunayake highway is almost double the cost of the Colombo-Galle expressway which opened in November 2011. That road cost $7.2 million per kilometre, but the build quality has left a lot to be desired, according to some.