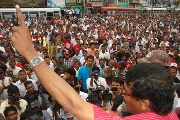 Arresting Joolampitiya Amare would not end the wrongdoings said the General Secretary of the JVP Tilvin Silva. He said this speaking after an agitation held today to protest against the double murder committed when a meeting of the JVP held at Katuwana in Hambanthota District was attacked by thugs on the 15th.

He said people in the country are prepared to send home the government that doesn't take any legal action against thugs it has nurtured but allow them to roam about committing various crimes.
Speaking further Mr. Tilvin Silva said the official and unofficial forces of the Mahinda Rajapaksa government are murdering those who engage in politics democratically and this has continued throughout history.
He said their struggle would not end until the present government, imperialism and the social system that protects them are wiped out. The General Secretary of the JVP said the JVP possesses resoluteness that allows it to go forward without wavering until a genuine democratic society where people need not worry about being murdered on the roads is created. He invited everybody to rally with the JVP to march to achieve such a society.