CV Wigneswaran
The occupying Sri Lankan military in Jaffna on Tamil Heroes Day blocked the Northern Provincial Council (NPC) from planting trees at the public venue of Thanthai Chelva's memorial square. However, three provincial ministers, including the NPC Chief Minister CV Wigneswaran and three councillors went ahead planting tree saplings in the premises of the secretariat of the provincial education ministry, which is located in a private land. "This is about our emotions and feelings. If the [SL] government didn't allow us to proceed with this, the outcome would be much more drastic," the chief minister of NPC warned Colombo.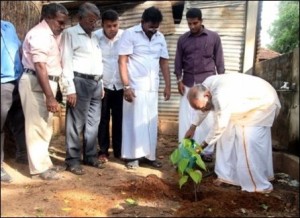 "No government can stop us from planting trees in our private lands. I have planted a tree at my house also. We are planting these new tree saplings at the secretariat which lies in a private land," Mr Wigneswaran said adding that the act also symbolised the desire of a people for their rejuvenation.
"While praying that peace be upon the souls of those perished, we also regard this event as a sign of bringing ourselves into a new world," he added.
NPC Minister of Agriculture Mr P Aingaranesan and NPC Minister of Education T. Kurukularajah, NPC members V. Sivayogan, P. Gajadeepan and E. Arnold were present at the function.
"We plant trees symbolising our desire for the arrival of a new generation as one generation has left us. A lot of youth, both men and women, among our population have departed from us. If we are to achieve upliftment in our life, we need the youth, children and more students," he said.
"Like we seek to maintain our environment in a healthy way, we also seek rejuvenation of the human life."
"The [Sri Lankan] Government has forbid planting trees [on this Day]. They are approaching the issue with a narrow mind," he said.
The government should take into account the emotions and feelings of the people. If it seeks to suppress the emotions of the people with military might, the result would be far worse, and that the government should take this into account, the NPC Chief Minister warned.
If the government sought to tackle the situation with military might, the emotions and feelings of the people would gain more impact in the future than now, he said. "If you put the ball inside the water and push it downwards, it would bump up," Mr Wigneswaran said.
In his 3-minute address, he also said: The trees on both sides of the A9 have been wiped out in the Northern Province. The outgrown jungles have become empty terrains now. "How did they vanish, who got them is something we could only assert, I think, through an international investigation," he commented
TN