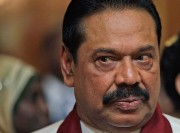 Minister of State in Prime Minister's Office V. Narayanasamy on Saturday said that the accusations made by Sri Lankan President Mahinda Rajapaksa against the fishermen from Tamil Nadu were unsubstantiated. Narayanasamy on the contrary said that the Indian fishermen were being harassed, and added that they face a lot of problems.

"As far as the point that has been raised by the President of Sri Lanka that their fishermen are being attacked, but on the contrary, we found that there is proof to show that our fishermen were attacked by the Sri Lankan Navy," said Narayanasamy.
"Some of the fishermen were fired at, their boats have been damaged, their boats have been captured, our fishermen were captured and put in the Sri Lankan jail, but none of the Sri Lankan fishermen are kept by us," he added.
In his speech at the UN Conference on Sustainable Development (UNCSD) Rio+20 at Rio de Janeiro, Rajapaksa indirectly accused Indian fishermen of encroaching on Lankan waters, denying Lankan nationals access to resources of their own country and using destructive methods of fishing such as bottom trawling.
He sought international remedies to curb such encroachments. (ANI)
NI
PM's silence on SL remarks irks PMK

Date:

2012-06-23 11:03:00

Condemning Sri Lankan President Mahinda Rajapaksa's accusation during the Rio +20 meet in Brazil that fishermen from Tamil Nadu were trespassing into Lankan waters and plundering resources, thereby denying the Lankan citizens access to their own resources, PMK founder S Ramadoss on Friday demanded that India "react strongly" to the remark.

The allegation was made with an intention to invoke a particular clause in the laws governing oceans, where such plunderers could be awarded a 20-year prison sentence, Ramadoss said in a statement issued here.

Although Prime Minister Manmohan Singh met Rajapaksa after his speech, there seemed to be no indication of any action in response to the remark, the PMK leader said.

The "soft policy" of the UPA government towards Lanka, citing the growing Chinese influence in the island nation, was encouraging Rajapaksa to make such comments, he charged.

Already, over 600 fishermen have lost their lives in attacks by the Lankan navy and scores have been arrested, Ramadoss alleged and urged the Centre to give up its soft stance towards Lanka as this would "turn into a threat to the country's security."
CT