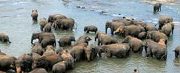 ■Sri Lanka Tourism Promotion Bureau MD post is a permanent position and comes under scheme of recruitment approved by Treasury
■Rumy Jauffer hired on one-year contract sans an application or a CV
■Not marking attendance, unlimited use of fuel among flags-off in Auditor General's Department query

A host of queries by the Auditor General's Department over the appointment of Rumy Jauffer as the Managing Director of Sri Lanka Tourism Promotion Bureau (SLTPB) has opened a fresh episode of bad governance in the public sector.
The Daily FT learns that the post of SLTPF Managing Director under the Tourism Act No. 38 of 2005 is of permanent cadre within the scheme of recruitment approved by the Treasury requiring various compliances.
However a year ago, Jauffer was appointed by the Minister of Economic Development Basil Rajapaksa/Secretary Dr. P.B. Jayasundera on a contract basis and the shocking revelation is it was sans an application, a resume and required qualifications.
Furthermore, the regulations on appointment requires the select candidate to have a degree in marketing, finance, business administration, law or social science from a recognised university and/or MBA or qualifications from either Chartered Accountants of Sri Lanka (ICASL), Chartered Institute of Management Accountants (CIMA) or Association of Certified Chartered Accountants (ACCA). Additionally, the candidate must also posses 18 years of experience in management functions in HR and other resources.
Previously Jauffer was a Director at MILCO.
According to the query from the AG's Department, Jauffer had been hired as MD of SLTPB without him making an application along with a resume, whilst his selection had been without verifying whether he possessed the required educational qualification and experience for the post as stipulated in the regulations.
Since the Managing Director is in charge of the institution's financial and administrative issues, the rules also require a fit and proper test conducted before recruitment but herein too this hadn't been done.
As per Jauffer's terms of contract with the SLTPB Chairman dated 27 June 2011, the former is entitled to only two days of leave per month. However, Jauffer hadn't recorded his entry and exit to his work place and as per the AG's Department, Jauffer hadn't received special permission for such a conduct either from the Chairman or Ministry.
This, according to the AG's Department, was a serious departure from the ordinary course of conduct and sans attendance records, Jauffer having been paid his monthly salary and other benefits had caused issues with regard to audits of the SLTPB.
Another charge was that as per Public Administration circulars, a director is entitled to 120 litres of fuel. However, Jauffer's contract hadn't specified a fuel allowance, yet, according to the AG's Department, the Managing Director has used unlimited fuel.
Between May 2011 and April 2012, the fuel allowance received by Jauffer was Rs. 256,261 while the amount taken within the first four months of 2012 was Rs. 133,239.
The AG's Department has maintained that the SLTPB accounts hadn't included the Chairman's approved monthly work schedule and transport log despite the unlimited use of fuel.
Prior to the SLTPB appointment, Jauffer was a former MILCO Director. Jauffer was appointed displacing Acting MD Malraj Kiriella, who reverted to his substantive post of Director Research and International Relations
FT