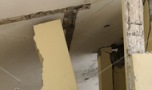 Contractors warn buildings could collapse because of low-quality stocks
Chris Kamalendran
Hard on the heels of contaminated fuel that ruined over two thousand motor vehicles, a large quantity of cement imported from Pakistan by the Sri Lanka National Co-operatives Board has been surreptitiously released to the market without quality certification, the Customs revealed yesterday.
The Customs said the stocks, the quantity of which is yet to be determined, had been cleared and bonded at the Building Materials Corporation (BMC) warehouse. "Someone has broken in and released large stocks," Customs Director General Sudharma Karunaratne told the Sunday Times yesterday. She said these stocks had not even been certified by the Sri Lanka Standards Institution (SLSI) as conforming to its specifications.
The import of these stocks of cement had been made by an organization which comes under of Co-operatives and Internal Trade Minister Johnston Fernando. Trade sources said yesterday a huge quantity of cement bags reportedly bearing SLS tabs had been introduced to the market. Sri Lanka Standards Institution official said it was physically impossible to check every bag to determine whether it was from stocks originally certified by it.
The Sri Lanka National Co-operatives Board, Customs officials said yesterday, had declared only 14,000 to the SLSI to obtain certification. However, they said that the Co-operative Board had imported more than 180,000 bags of cement.
While there is a shortage of cement, it is the Co-operatives and Internal Trade Ministry that is tasked to take action to overcome it. Rumi Marzook, Chairman of the Consumer Protection Authority that comes under the Ministry, said, "We have not received any complaints so far to conduct investigations into this matter." He was referring to the stocks released to the market illegally.
The imports of the stocks of cement have been made from a Pakistani supplier. The SLSI had issued suspension orders on two occasions for different shipments because the stocks did not conform to specifications and were of poor quality. However, these have been ignored.
Customs Director General Karunaratne said the removal of stocks from bonded warehouses was a violation of the Customs Ordinance. She said action would be taken against the importer, which, in this instance, is an organisation coming under a government Ministry.
SLSI Director General Lalith Senaweera told the Sunday Times they were also examining the possibility of filing legal action. This is because the SLSI had issued an order to the Sri Lana National Co-operatives Board not to import cement from July 20 until its investigations were completed. However, this has been violated. Existing regulations require that cement imported into the country should have the SLSI label.
"Unlike contaminated fuel ruining vehicles, the use of poor quality cement could threaten lives if buildings constructed using them collapse," warned a leading contractor.