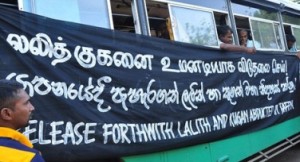 Police have stopped a group of activists on its way to the north to campaign against disappearances and abductions.
At the Medavachchiya police checkpoint, buses transporting them were stopped, with a top police officer telling them that they could not proceed further as the Sangupiddi Bridge has collapsed.

Activists of the organizations against disappearances and abductions had questioned as to why only they had been stopped and how vehicles were returning from the north from the same route.
After about half an hour, they had been allowed to proceed to the north.
Representatives of 17 organizations are participating in the campaign.
They are from Movement For People's Struggle, United Socialist Party, Nawa Samasamaja Party, Lanka Communist (Maoist) Party, alternative group of the Lanka Samasamaja Party, Socialist party, Socialist Alliance, People's March, We Are Sri Lankans, People's Lawyers Association, Lawyers for Democracy, Journalists for Democracy, Students for Human Rights, Inter Company Employees Union, Telecom Services Union and Samastha Lanka Suvaseva Sangamaya.
Tuesday, 17 January 2012
Srilankamirror