Image courtesy of Sunday Times.
Prisoner rights activists say a focus on punitive rather than preventative measures is mainly to blame for the overcrowding of prisons.
Prisons Department said this week that the country's prison population had grown rapidly since the start of 2023. While there is room for only 13,241 inmates within the prison system, there are about 19,000 suspects who are in remand custody in addition to about 10,000 prisoners. The total prison population stands at about 29,000.
Overcrowding is also seen as a factor in the recent spread of contagious diseases among the inmates of the Vavuniya Prison, which forced authorities to close the prison until further notice this week. All outside visits have been halted, while suspects who are remanded by the Vavuniya Magistrate's Court are now transported to the Anuradhapura Prison. Court proceedings related to inmates at the Vavuniya Prison are being conducted via Zoom.
The Prisons Department is taking measures to try and ease congestion within prisons. These include constructing new buildings in some prisons and work camps. These measures are inadequate to address the problem of overcrowding.
Acting Police Spokesman Ruwan Gunasekara said that without scientifically analysing the data, he could not say whether there had been a rapid rise in suspects being remanded.
DIG Gunasekara noted that authorities had taken steps to reduce congestion in prisons. These included measures taken during the Covid-19 pandemic to reduce the prison population, acting on advice given by the Attorney General, and amendments to the Poisons, Opium and Dangerous Drugs Ordinance, which DIG Gunasekara said focused more on directing drug-dependent prisoners for rehabilitation.
At the same time, however, Police have been taking measures to combat organised crime by increasing raids. He claimed suspects behind many major crimes, such as drug trafficking and murders, that have been committed in recent times have been taken into custody.
The rise in the prison population is also a strain on Government resources. The cost per prisoner rose from Rs 979 a day in 2021 to Rs 1,227 in 2022. The cost of maintaining a single prisoner a year was Rs 447,796 in 2022, compared to Rs 357,300 in 2021. Meal costs have gone up from Rs 239 a day in 2021 to Rs 483 a day last year.
Constructing new buildings to house prisoners is not going to be a long-term solution to the overcrowding problem, noted Senaka Perera, President of the Committee for Protecting the Rights of Prisoners (CPRP).
"There is no proper scientifically based rehabilitation programme within the prison system. We are still more focused on punitive rather than preventative measures," he told the Sunday Times. 
Overcrowding within the prison system has had deadly consequences in the past, said Mr Perera. He noted that it was overcrowding that led to the riot at the Mahara Prison in 2020, where 11 inmates were shot dead by prison officers. Prisoners were protesting against inadequate safety measures to stop the spread of Covid-19 among them. "Inmates were agitated that more and more prisoners were being brought into the prison while the pandemic was raging. Authorities responded to their concerns with bullets," he said.
Many of the buildings in prisons were built during colonial times and are inadequate to meet modern needs.
The 'rehabilitation' that prisoners undergo is also inadequate, he said. "You can teach a vocation to an inmate, but it will not be enough unless you help them psychologically to ensure they do not re-offend. Our system is not focused on maintaining a prisoner's physical health, let alone mental well-being."
Mr Perera claimed lawmakers rarely focus attention on the well-being of the prison population because they are "a voiceless crowd." The prisoners know that they will likely be victimised for speaking out. Therefore, they prefer to keep quiet about their difficulties, he added.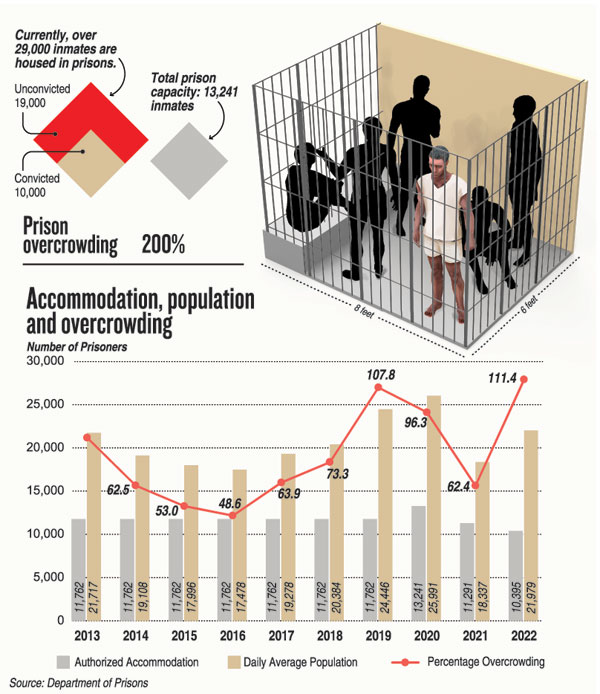 Page14Graphic