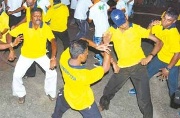 Rehabilitated and visiting South
The rehabilitation of ex-LTTE cadres is being carried out successfully. About 11,000 ex-LTTE cadres are already back with their families after completing the rehabilitation programmes conducted by the Army. There are only 698 cadres still under rehabilitation, Rehabilitation Commissioner General Brigadier Darshana Hettiarachchi said.

The government has allocated Rs 300 million to grant loans for ex- LTTE cadres to start self-employment projects with a maximum of Rs 250,000 at only four percent interest, he added.
Those who undergo rehabilitation come to the rehabilitation centres on court orders and they will be under a rehabilitation programme for a year with effect from the date they come to the rehabilitation centres. As such it is difficult to point out a date or time frame to release them, he said.
"We provide meditation, sport, education and vocational training to ex-LTTE cadres during their rehabilitation period. After they complete the rehabilitation period, they follow various courses under several components," the Brigadier pointed out.
"Thereafter, we hold a special counselling programme to change their destructive ideology and mindset which they had acquired due to brainwashing by the LTTE.
"We also train them to respect others and we release these people to the society with good attitudes," he explained.
Ridma DISSANAYAKE