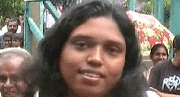 A member of the Bulathsinghala local body member was abducted on the 20th evening . She had been involved in financial deals with a Coordinating Secretary of the President and been the center of a number of conflicts and disputes between them.
The abduction is a sequel to these disagreements and differences , the 'Yukthiya' website reveals.
The victim is 28 year old Lakmini Anupama , a UPFA member of the Bulathsinghala local Council who had been abducted when she was returning home after performing a Bodhi pooja. A group which came in a motor vehicle had brandished a pistol and abducted her.
The victim had been jointly with the President's Secretary , collecting large sums of monies from youths (males and females) of the district promising to provide them with Govt. jobs. Yet , she had failed to fulfill her promises , according to reports reaching Yukthiya website .The victim had told the youths who gave her monies that the President's coordinating secretary had cheated her , while the youths who were duped say that this phony job agency was carried out by her and the Coordinating Secretary in partnership.
The defrauded youths have told her that if she is not guilty to file action against the Coordinating Secretary . But she had been reluctant to do that. The youths had further disclosed that they heard that there had been disputes between the Coordinating Secretary and the local body member when dividing the spoils after cheating the victims. The police is conducting investigations into the abduction.
XN