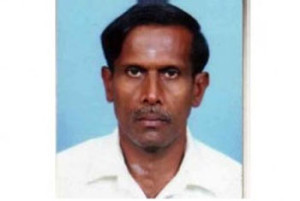 The deceased, Sinnathurai Indreswaran (53)
The body discovered near a road in the Bangalahatha area in Nanu Oya last Wednesday has been identified as the brother-in-law of TNA parliamentarian Selvam Adaikalanathan.
TNA MP and Tamil Eelam Liberation Organization (TELO) leader Adaikalanathan said that he identified the body today and that it was his brother-in-law, who had been missing since Tuesday (Oct 30).
Sinnathurai Indreswaran, 53, was reported missing since October 30 after he had left his Kotahena residence for work at a jewelry store in Sea Street, Colombo. He had contacted him family only once after leaving home that day.

Kotahena Police had informed Pettah Police regarding the disappearance while an investigation had been launched.
The following day (October 31) a unknown body was discovered in Bangalahatha, Nanu Oya while police said the person had died under suspicious circumstances.
Nanu Oya Police contacted Pettah Police to inform regarding the discovery and the body was identified by the TNA Vanni District MP today.
Police suspect Indreswaran was abducted and murdered before his body was dumped in Nanu Oya.
AD