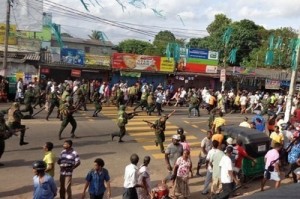 COLOMBO (AFP) – A second Sri Lankan protester died from wounds suffered when troops fired on villagers demonstrating against contaminated water supplies, police said Saturday, as tensions remained high in the area.

Heavily armed police and Special Task Force commandos were still in the the village of Weliweriya following Thursday's shooting and locals reported people were fearful of leaving their houses.
"People are afraid to go outside of their houses because of the security forces' presence," A. Siridamma, the senior Buddhist monk in the area just outside the capital, told reporters.
Criticism of the army's use of force has mounted since the shootings.
The independent Lawyers Collective on Saturday condemned the crackdown against the peaceful protest by villagers who were demanding clean drinking water for thousands of residents of Weliweriya.
One man died Thursday night from the shooting while another man who was injured died overnight in hospital, police said, raising the death toll to two.
Dozens more protesters were wounded when police opened fire on hundreds of demonstrators. Local television footage showed troops with automatic weapons, some clad in body armour, firing into crowds.
"Evidence clearly establishes that deplorable levels of force, including live bullets, were used on the unarmed villagers," the Lawyers Collective said in a statement.
"The legal fraternity urges the government to control its military and ensure that they are used for legitimate purposes only."
Local media rights group, the Free Media Movement, said security forces also launched an "inhuman attack" against journalists covering the protest Thursday, beating up some journalists and smashing cameras.
The military said it had named a five-member board of inquiry to probe the allegations against the troops.
"The board has been asked to go into all aspects, including whether proper norms have been followed in dealing with the situation, who ordered the troops to deploy and on what basis," spokesman Brigadier Ruwan Wanigasooriya told AFP.
Locals in Weliweriya, 20 kilometres (12 miles) northeast of Colombo, were protesting against runoff from a rubber glove-making plant that they say has polluted their groundwater supply.
The main opposition United National Party also condemned the shooting and said the attack against unarmed civilians was a sign the country was heading for a military dictatorship.
A resident said the protest erupted Thursday because locals felt police had ignored the longstanding complaints that the glove factory was discharging chemical waste.
Dipped Products Ltd, a publicly quoted company that maintains the manufacturing plant, said Friday it was confident the water issue was unrelated to their operations but were cooperating with authorities "for an early settlement of the matter".
Security forces were standing guard at the plant on Saturday.
Sri Lankan authorities are under separate pressure from Western powers to deliver on promises to investigate allegations of war crimes and ensure ethnic reconciliation more than four years after militarily crushing Tamil separatists.
Last month, EU lawmakers urged Colombo to ensure accountability in the face of what the UN calls "credible allegations" that up to 40,000 civilians were killed during the final battles in 2009
AFP