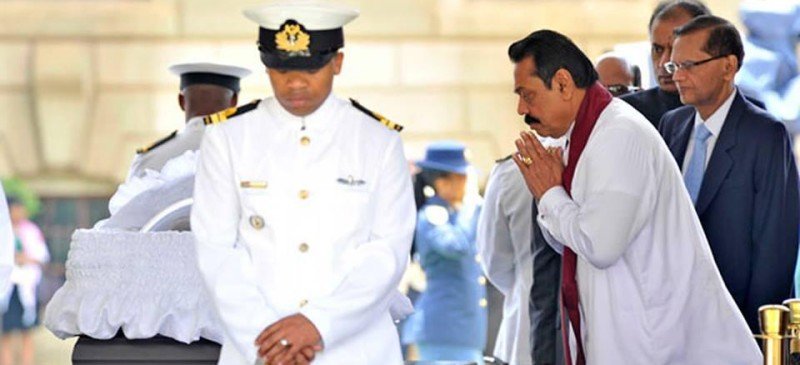 Dear Mahinda Rajapakse,

At the outset , I would like to tell you one thing. I regret very much that we have never met and not had the opportunity to share our experience. Perhaps you could not visit me before I became bedridden because you were bogged down with a difficult war.


First of all I should thank all the people living in your beautiful country for the indomitable solidarity extended by them and their leaders when our country was under the curse of naked racism of apartheid system. I expressed these sentiments to your former President Chandrika Kumaratunga every time I met her.

Both our countries have suffered from the course of war, although in different contexts. Some wars are fair. Some are not. But the issues left after all wars are more or less similar. For war means annihilation. Our South Africa won freedom and democracy with the legacy of long and oppressive racist rule and armed resistance in the background. We were engaged in a fatal war with the racist state. But once the inhumane apartheid / racist rule was over, our aim was transformed in to building peace and democracy. This is a task fundamentally different from waging war.

When we look at history of your own region, we meet the King Asoka, who was instrumental in such a change. He took off the armour and became Dharma-Asoka. It is essential that we leave the politics of war behind to work towards peace and human freedom. This is one of the paramount lessons from South Africa.

And I need to tell you that international pressure was extremely helpful in achieving our independence. One of the most important experiences that I like to share with you is that the international pressure could work both ways; to make the situation better or worse in a country. It is impossible to neglect the international pressure.

Our struggle also proved to us that at the end, it is the internal forces that decide the future of a country. In the case of South Africa, international and national forces surged forward intertwined, like a rope. If there was no powerful movement for freedom within the country there would not be an international campaign or any influence from such a campaign. Please consider how your country could make use of international concerns like ours did.

You may wonder why I am getting in to political discussion. That is precisely because of the news that your government is keen to learn form our Truth and Reconciliation Commission (TRC) process. This indeed makes me happy. It is all the more important that you have expressed this desire to learn from our experiences to address the unresolved human rights issues related to the war, at the CHOGM, recently held in your country.

People like Bishop Desmond Tutu, one of the great men of our times, and who fought for the freedom of our country alongside me, has briefed me on several occasions regarding the deplorable situation your country is facing. In 2007 together with Graça Machel and Desmond Tutu, I initiated the Elders as a forum to facilitate solving humane problems faced by the mankind, including peace building. World renowned human rights defenders like Martti Ahtisaari, Kofi Annan, Mary Robinson – to name a few- joined the group. At the time of its formation I remember saying 'this group can speak freely and boldly, working both publicly and behind the scenes. Together they will support courage where there is fear, foster agreement where there is conflict and inspire hope where there is despair.'
It was Bishop Desmond Tutu who chaired the Elders, which the three of us created together, since its inspection. I still remember the first night I spent as a free man at Tutu's home in 1990 after 27 years in prison. He is a remarkable person who rendered a priceless service to stop our country degenerating in to an inhuman conflict again.

He was the chair of our Truth and Reconciliation Commission. He led the reconciliation process by setting examples, not by mere words. He was the first to coin the word Rainbow Nation for South Africa.

At an early state of our peace process white supremacists assassinated Chris Hani, the leader of the South African Communist Party and who many believed to be my successor, in the hope to derail the peace process. At this crucial junction, Bishop Tutu played a role of historical significance. At his funeral Tutu managed to subdue the strong and agitated crowd of 120 000, by getting them to chant: "We will be free, all of us, black and white together!"

Bishop Tutu has set many examples that you may be interested in. He resigned form the of the Elders in 2013. He said; 'As Elders, we should always oppose Presidents for Life. After six wonderful years as Chairman, I am sad to say that it was time for me to step down'.' As you may know, I, myself, resigned from the presidency of South Africa after one term. This is another lesson you can learn from South Africa. I am disheartened to hear that you have changed the Constitution in a way that you can be the president for life.

Dear Mahinda, I thank you for your respectful words for me. To make those respectful words meaningful you need to follow the path cleared by us. Please examine whether you are on the same path.

I am afraid that I will be made a symbol to decorate undemocratic regimes and my name and the image will be used to boast their rule.

At times I wonder what do you have to learn form us when you have become a strong defender and a close friend of President Mugabe of Zimbabwe, who has made himself president for life, in practice. His path was completely different to ours and laden with violence. Another disappointing news is your close relationship with the king of the Swaziland, a most backward country in Africa. If you have chosen to follow the examples of Zimbabwe and Swaziland, there is nothing we can offer you.
If you really want to learn anything from South Africa or from my life as a politician, that is the difference between the politics of war and politics of peace. The basis for politics of peace is not the coercion or militarisation but rather a democratic practice based on justice and fairness.
I was made aware of the position taken by The Elders in relation to your country in recent times. I am still an honorary member of the group and my partner Garcia Michael continues to be an active member of the group. In March 2013 The Elders said:
Unfortunately, too little has happened since the end of war in Sri Lanka. Lasting reconciliation; upholding the rule of law; protection of human rights: it is difficult to feel positive about any of these essential objectives today. The impeachment in January of the Supreme Court's Chief Justice, Shirani Bandaranayake, was a particularly disturbing sign that the authorities do not plan to tolerate dissent or disagreement. …There has, furthermore, been almost no meaningful action to implement the LLRC's recommendations ….There needs to be an independent and credible international investigation into alleged violations of human rights perpetrated by the Sri Lankan Armed Forces, the Liberation Tigers of Tamil Eelam and other rebel factions in the final months of the civil war …
I need to tell you that The Elders, has endorsed the both resolutions passed by the UNHRC in 2012 and 2013 on Sri Lanka. In fact our group advocated for a stronger resolution to be passed. We endorsed those resolutions not because we are against Sri Lanka; because we are sincerely concerned about justice and human rights of all Sri Lankans.
These actions of the Elders were taken under the guidance of its Chair and former Chair of the South African Truth and Reconciliation Commission Bishop Tutu. Truth and Reconciliation go in hand in hand.
Now I come to my final question: Will you brand the Elders, including me, as traitors to Sri Lanka because of the stance taken by us? I am afraid that you do not have any other alternative given the politics you follow. I urge you again to examine your path.
Sincerely yours,
Nelson Mandela
PHOTO: Mahinda Rajapaksa paying his last respects to the remains of the former South African President late Nelson Mandela. Photo via official Twitter feed.
This imaginary letter was first published in Sinhala in the Ravaya newspaper. The author translated it into English on our request
– Groundviews