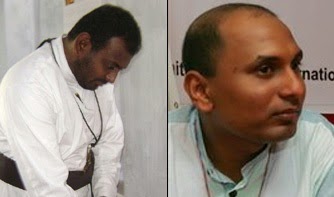 Fr. Praveen and Ruli
Lanka e News is has been informed by our legal sources on a unbelievable a court order imposed on Ruki Fernando and Fr. Praveen Mahesan , who were arrested by TID and released without any charges after two days of questioning. According to this court order both of them are not even allowed to speak to anyone including their loved ones.
They were arrested on last Sunday night (SL time 10.30 pm ) in Kilinochchi and released in Colombo. For the first time in Sri Lankan judicial history they were released at 1.30 am on 18th March 2014. An another record.
This order has been given by magistrate no 2 of Colombo upon a request made by the Criminal Investigation Division (CID) of the Sri Lanka police. She has given 3 separate orders against both of them.



The first order is to impound their passport to travel outside the country.




The second is all laptops and I-Pads in their profession to be taken by the CID.




The third is the ridicules world recorded order banning Ruki Fernando and Fr, Praveen Mahesan speaking to any one, locally or internationally any thing related to the case. In fact this wonderful order prohibits them speaking to their loved ones, and even to the legal advisers,
This orders has been issued not on the same case numbers (IMI) but new IMI. This order has been given at 8.00 pm Sri Lanka time yesterday (19th) by the same judge who released those 17 hours ago. According to unconfirmed reports the judge is Tilina Gamage.
The case of Ruki Fernando and Fr. Praveen Mahesam has set not only one but number of records already, and we may be able to witness more in the coming days!
This incident has shown that MARA judiciary is working day and night to suppress and intimidate human rights defenders while letting loose large scale drug dealers.
Tomorrow a motion will be submitted to High Court against this illegal and unjust court by the lawyers of both human rights defenders