Meera SrinivasanIt has been a long while since the Jaffna school lost its building to the Sri Lankan army — which uses it for its High Security Zone (HSZ) — in 1990.
Between classes on Friday, their last working day before Christmas break, a few children at one of the oldest public schools in Jaffna were running about, giggling and chasing one another. The name plate outside had in bold letters its name: 'Nadeswara College, Kanakesanthurai'.
With walls crowned with tin sheets posing for classrooms, and a tiny room that says "principal's office", the school — founded in 1901 — struggles for space.
It has been a long while since the school lost its building to the Sri Lankan army — which uses it for its High Security Zone (HSZ) — in 1990.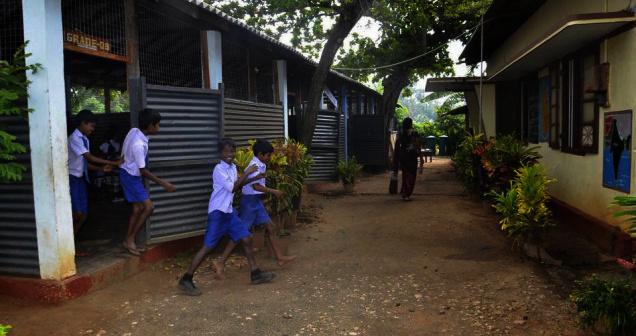 TRADING SCHOOLING FOR SECURITY? Nadeswara College, Jaffna, whose old building was reportedly demolished to make way for the Sri Lankan army's High Security Zone. — PHOTO: MEERA SRINIVASAN
The Hindu

TRADING SCHOOLING FOR SECURITY? Nadeswara College, Jaffna, whose old building was reportedly demolished to make way for the Sri Lankan army's High Security Zone. — PHOTO: MEERA SRINIVASAN
"All these years, we were not even allowed to go and see our old school building," said a teacher, requesting anonymity. All hopes the teachers had of returning to the original building — now that it is four years since Sri Lanka's civil war ended — were dashed last week following reports that the Sri Lankan army razed the school's old building.
The century-old-school's specific case is a reflection of the larger controversy around the Sri Lankan army taking over private land in Valikamam North, a divisional secretariat in Jaffna. While the army has denied demolition of any "building of significance", the denial is not easy to verify since no one except the army — not even the Northern Province Chief Minister — has access to the HSZ.
Last week, when Chief Minister C.V. Wigneswaran— who won the recent Northern Provincial Council elections that saw the Tamil National Alliance (TNA) secure a massive mandate — tried visiting the HSZ after labourers working at a cement factory alerted his office about demolition of temples and a school building, the army did not permit him.
Army spokesperson Ruwan Wanigasooriya told The Hindu: "The army invites people to its camp only when there is a function or an event. Otherwise, just about anybody cannot enter a high security zone, you see. Mr. Wigneswaran was not invited for any event that day." The army, he said, would never bulldoze any important building, school or temple, adding: "You must also remember that there was a lot of artillery firing by the LTTE in that area. And it has been 20 years and many buildings exposed to rain and sun might have just collapsed on their own."
Depending on who you talk to in Jaffna, different accounts — some blaming the Tigers for the shelling and others pointing to the Sri Lankan forces — emerge.
Those behind the shelling aside, the Sri Lankan army's acquisition of private land in 1990 for its operation — the High Security Zone as of today spans 6,381 acres around the Palaly airport, about 15 km away from Jaffna town — has meant that thousands of families lost their homes. Fishermen lost their livelihoods because the security zone also gobbled up Mailadi, a fishing village along the coast. Those engaged in agriculture were also hit badly, as their cultivable land was now under military control. As many as 18 government schools, including Nadeswara College, that were catering to residents areas in and around of Valikamam, lost their buildings.
According to S. Sugeerthan, chairman of the Valikamam North Pradeshiya Sabha, the local government body in Kankesanthurai, in whose jurisdiction much of these areas come under, only seven of these schools managed to survive by moving to different private buildings. "In all these schools, there has been a high dropout rate and the attendance is very low," he said.
Nadeswara College, one of the few schools that offered four streams at A-levels (equivalent of class XII) earlier, was teeming with 1,100 students until 1990. Today, with a total of 150 students, it offers schooling only up to O-levels (SSLC). Nadeswara Kanista Vidyalaya, the primary section of the institution — functioning from another private building — which had 750 students before 1990, has 39 students now.
While migration of residents and displacement may have also partly contributed to the fall in student strength, new enrolments are proving difficult. "We are unable to get any fresh enrolments," said one of the senior teachers, who did not wish to be named. "The owners of our building are in Colombo and have lent this space seeing our plight. If they ask for the building sometime, we have nowhere to go."
With the school shifting from one building to another and distance increasing for many students, children have been forced to drop out over the years. "It's a fairly long distance for the children," said Vairamuthu Mangalraja, just as his little son — barely five — hiding behind his legs peeped out every now and then. A daily wage labourer residing in Tellippalai, about three km from Kankesanturai where the school is, has six children, all studying in this school.
Amid ongoing debates in Sri Lanka on the need for the army to maintain high security zones , four years since the war between the Sri Lankan armed forces and rebel Tigers ended since the end of the war in May 2009, concerns over the Sri Lankan army taking over private land have been surfacing periodically since April.
The army had put out notice stating that it had permanently acquired the 6,381 acres, and claiming that the original occupants could not be traced.
The occupants — some of whom were displaced to the Vanni and other parts of the country during the brutal war — returned only to find out they could go nowhere near their land. Once their home, it had now become an exclusive domain of the army. "We don't even know if our homes are there or have been demolished," said A. Kunapalasingam, president of the Vali-North Rehabilitation and Resettlement Committee.
"We went to the court, producing title deeds of land owned by 2500 in the area, and the case is on, but frequent reports of the demolition that we hear from labourers in the area are frightening us. Especially since we cannot go there and see for ourselves," Mr. Kunapalasingam said.
Some of the displaced persons, according to him, went as refugees to other countries. Many live in and around Jaffna, in state-run welfare centres for internally displaced persons or what are commonly referred to as "camps".
In addition to frequent demonstrations — withstanding threats and intimidation reportedly by the army — the residents also voiced their concerns when British Prime Minister David Cameron went to one of the camps, during his recent visit to Sri Lanka for the Commonwealth Summit.
In October , following the army's partial demolition of homes in Kattuwan Village, Tellipalai, Valikamam North, a village, TNA leader and senior parliamentarian R. Sampanthan took up the matter with President Mahinda Rajapaksa who assured him that the demolitions would be stopped immediately. He raised the issue in Parliament as well.
Last week, Mr. Sampanthan spoke to Mr. Rajapaksa again after coming across reports that some temples and a school in the area were being demolished. "The President assured me that he would look into the matter. But two days after I spoke to him, the demolition seems to have begun again," he told The Hindu.
Reasoning out, Mr. Sampanthan said if the demolition continued after Mr. Rajapaksa's assurance, it could only mean that the President broke his promise, or that someone else went ahead with the demolition despite Mr. Rajapaksa's assurance, and he has no control over their actions. "It has to be one way or the other."
The issue, turning more chronic in the last few months, is also drawing international attention. Earlier this week, residents of the contested area met Chaloka Beyani, the visiting U.N. special rapporteur on the human rights of internally displaced persons, and submitted a petition highlighting their plight.
Recognising the seriousness of the problem, allies of the Sri Lankan government have also started speaking out on the army's reported demolition drive in Valikamam North. A few days ago, Minister Douglas Devananda of the Eelam People's Democratic Party (EPDP), a Tamil leader with the ruling coalition here, wrote to the President raising concerns over reports that private property and Hindu temples in Valikamam North in Jaffna were being demolished by the military.
The dissenting voices, however, seem far from pressuring the government. On Friday, a bright pleasant morning, the vast expanse of land — all fenced by the army now — shone in bright shades of green in the morning sun. At a distance, you see tall men with toned torsos and bulging biceps strutting about the land with the soil dug up in some parts. A couple of them are in army fatigues, watering saplings