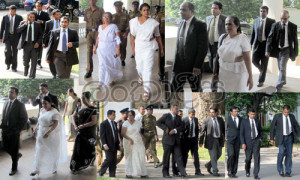 The judges all Island who met today had adopted the resolution by one vote to express their opposition to the dictatorial Rajapakse rule which is via the impeachment motion defying natural justice and exploiting the State media to malign , publish falsehoods and denigrate the Judiciary .
The resolution stated that it must be deemed that the deplorable actions of the regime as not only directed against the Chief justice (CJ) Dr. Shiranee Bandaranayake but as generally against the entire judicial sphere , and all must act against it with unity. It was noteworthy that all the resolutions were adopted by a single vote.
This meeting of the judges all Island held under the leadership of the CJ recorded a 98 % attendance . Of about 300 judges Islandwide , over 270 participated in the conference. Only the judge Thassim who sent illicit SMS messages of threats yesterday and a few others were absent.
The judges also decided that they shall not reveal to the media what measures they are going to take , and that those should be demonstrated action wise. In all probability the judges are to participate in the protest tomorrow without attending courts. In this historic meeting of the judges, as many as 30 judges addressing the meeting was a special feature. The meeting which began at about 3.00 in the afternoon lasted until 5.30 p.m.
While the massive protest by a majority of the judges Island wide already scheduled for the 4th of December against the despotic rule of MaRa which threw even the SC directive into the bin , and is at the threshold of a dictatorship , the Judges Association convened a meeting today (3) at 3.00 p.m. in Colombo.
LeN