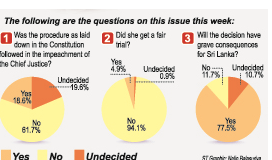 Lawyers, accountants, engineers, architects and various other professionals this week slammed the impeachment of Shirani Bandaranayake in a near unanimous vote saying she was unfairly judged.
Asked in a Business Times poll this week whether Ms Bandaranayake (who says she is legally still the chief justice) got a fair trial, more than 90 per cent of the respondents said NO.

The email poll which asked two more questions drew more than 900 respondents, the highest ever in a BT poll. The street polls by BT partner, Research Consultancy Bureau, were not undertaken this time due to insufficient time. Another island-wide poll on the public impact on consumer prices is under preparation by the BT-RCB polls team to be released in coming weeks.
Asked whether the impeachment procedure was in line with the Constitution, 61.7 respondents said NO, 18.6 per cent said YES while 19.6 per cent were undecided (U). The 'U' response here, and comments that followed this response, revealed that many people were unaware about the process or unsure about the constitutional provisions relating to the impeachment of a judge.
Some 77 per cent said the impeachment would have grave consequences for Sri Lanka while11.7 per cent said NO and 10.7 per cent were undecided.