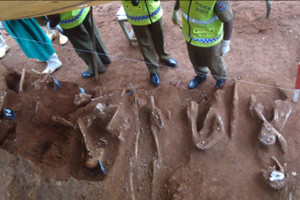 Initial investigations say these skeletal belong to 1988 -90
The JVP yesterday called for a high level probe into the Matale mass grave, from which 79 human skulls and the skeletal remains of 78 persons, believed to have been killed during the second JVP uprising in the late 1980s, were unearthed.
JVP Propaganda Secretary and MP Vijitha Herath told The Island yesterday that according to his information there were many more mass graves containing remains of JVP activists and other youth in several parts of the country.

Asked to name some of the places where the youth had been massacred and buried in large numbers, Herath said there were mass graves at Brown's Hill (Eliyakanda) in Matara, Divulapitiya, Koskelle in Kurunegala, Kumarakanda in Galle, Divulapitiya and Trincomalee.
There were mass graves adjoining each and every torture chamber the then UNP government ran as part of its strategy to quell the JVP uprising, Herath said.
Asked whether he thought there was a mass grave near the Law Faculty of the Colombo University, he said, since there had been a torture chamber in the vicinity there could be some truth in that claim, though he did not have solid evidence.
During the 1987–89 JVP insurrection, DIG Premadasa Udugampola had been in charge of the Central Province consisting of the Kandy, Nuwara Eliya and Matale districts, he said.
Herath said pro-government death squads had run large scale torture chambers at Pallekele in Kandy and Matale similar to the well known Batalanda torture chamber.
Now that preliminary investigations had been conducted into the Matale mass grave, a comprehensive probe was necessary and those responsible for the mass killings must be brought to justice albeit the delay, MP Herath said.
A mass grave containing the skeletal remains of 25 school children killed in Embilipitiya during the 1987–89 era was unearthed at Suriyakanda in 1994 and perpetrators of the killing were tried and sentenced in 1999.
by Dasun Edirisinghe
IS