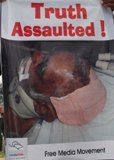 Representatives of six media groups in the South left for Jaffna this morning (Aug. 15) to hold a protest to condemn the assault of 'Udayan' news editor Gnanasundaram Kuhanathan. Led by the Free Media Movement, these media groups will hold an agitation and signature collection for a petition against the government in Jaffna town tomorrow.

Later, they will hold a special media briefing, said FMM convener Sunil Jayasekara.
He told 'Sri Lanka Mirror' that they would demonstrate against authorities' failure to bring perpetrators of any of the media attacks to book so far.
Meanwhile, senior DIG in charge of the North Gamini Silva said this morning that the main suspect in the assault of the 'Udayan' news editor has been arrested.
The man was taken at Colombo South General Hospital in Kalubowila by a police team from Jaffna, said the senior police official.