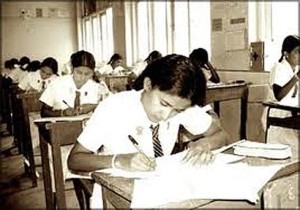 The United National Party (UNP) yesterday alleged that nearly 50% of the students who sit the GCE O/L Examination fail due to the government's failure to allocate sufficient funds for education.
Addressing the media in Colombo yesterday, UNP parliamentarian Rosy Senanayake said students are unable to perform well in the exams as they have not been provided enough facilities such as trained teachers and laboratory facilities.
She pointed out that in the GCE O/L Examination, nearly 50% students fail Mathematics while 63% of the students fail English Language and 8% fail all the subjects.
"At present, the entire education system of the country is in a crisis. But, the government is not paying enough attention to it. Though the government made lots of pledges regarding the education system, no pledge has been honoured, so far," she charged.
She also said the government allocates 27% of the Gross Domestic Product (GDP) to the defence sector even after the war, but they only allocate 1.9% for education.
While pointing out that countries such as China, Taiwan and Korea, achieved high economic growth by investing enough funds for education, Senanayake said the country cannot be developed without investing enough funds for education.
Highlighting a statement made by Higher Education Minister, S.B. Dissanayake that, Sri Lanka can earn foreign currency by admitting foreign students to local universities, she noted that approximately 5,000 Sri Lankan students go aboard for higher studies draining US$ 40,000 annually from the country and asked why the government cannot admit more students to universities.
Referring to the observations made by various people, criticizing the UNP for privatizing education, she claimed; "The UNP is the party that did a great service to the free education. It was the UNP that introduced the Mahapola scholarship scheme. The UNP is totally against privatizing education."
By Umesh Moramudali
– Colombo Today