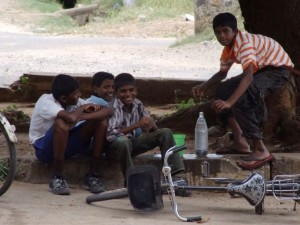 Jaffna children, after school (http://humanityashore.com)
Shocking information reveals, more quantity of students leaving schools in the midway, after war came to an end is the northern province of Sri Lanka.
Evaluations show, only in year 2011, one lack and 26 thousand students island-wide have left school in the midway. Out of the total figures, more are from the Northern Province.

Year 2011 statistics reveal 38 thousand and 321 students have left schools located in the Northern Province.
Eastern province comes in the second place students leaving in the midway. Approximately 24 thousand 614 students have left school in this province in year 2011 is according to Education Ministry.
Free education system is in existence in Sri Lanka, but students leaving schools in the midway is much disheartening was mentioned by Children Protective organization officials.
North and eastern provinces are affected by war, and due to poverty students are leaving schools in the midway is according to evaluations.
Children suffering from poverty are compelled to go for jobs. Further sufficient teachers are not prevailing in schools. Other fundamental requirements are not fulfilled, are the basic reasons for the students to abandon their education in the midway was pointed out.
Many undertakings have been taken to prevent students leaving in the midway, hence the students percentage
UO