By A concerned Citizen.
Recent revelations have brought to light the construction of 23 new Buddhist temples in the Kuchaveli area of the Trincomalee district, reportedly intended to serve a population of only 238 Sinhalese individuals residing across 10 Grama Sevaka units. This development has prompted concerns about the motivations behind building these temples in areas with notably low Sinhalese populations.
The context behind the establishment of these new Buddhist temples in regions with a minimal Sinhalese presence is crucial for understanding the situation. The decision to permit the construction of these temples in the Kuchaveli area was made during the tenure of President Gotabaya Rajapaksa.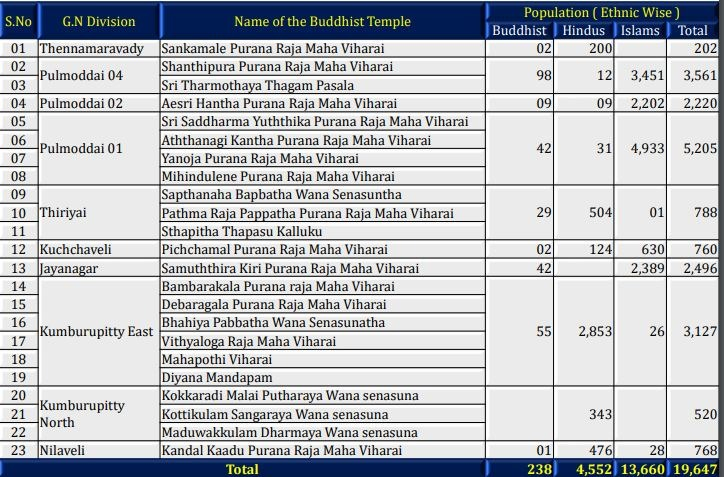 Observers have interpreted this situation as potentially contributing to communal tensions and exacerbating ethnic divisions. Moreover, critics argue that this approach runs contrary to the principles of Buddhism itself.
According to available statistics, out of the 23 planned temples, 9 are slated for construction in areas with a Muslim majority, while 14 are designated for areas with a Tamil majority across the 10 Grama Sevaka domains.
These developments raise concerns about the implications for ethnic dynamics in the North. In light of these circumstances, questions emerge about the feasibility of finding solutions to the ethnic issue and ensuring power-sharing for Tamil-speaking communities.
The situation underscores the importance of fostering dialogue, understanding, and respect among different ethnic and religious groups to promote peaceful coexistence and equitable representation in decision-making processes.
A Concerned Citizen