[Sword in hand, ruling party local leader engaged in the election campaign]
By CaFFE-
CaFFE has received 224 complaUnited National Party (UNP) Moneragala candidate Tissa Kuttiarachchi and his supporters have assaulted the son of another UNP candidate Sampath Jayasuriya yesterday around 10.30 am near Peoples Bank, Moneragala. Due to the assault Tharindu Jayasuriya, a pilot by profession, sustained stab wounds and his arm was broken. He had been admitted to Moneragala hospital and this is the most severe intra party conflict reported during this election.ints by September 4, 2014 out of which 166 have been reported from Moneragala. Meanwhile 46 complaints have been reported from Badulla. There are also 12 cases common to both districts and there are 57 reports of assault and damaging property.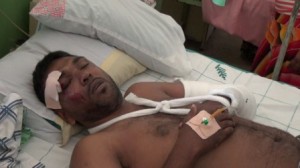 Due to the continuous attacks against them UNP candidates in Moneragala are extremely disheartened and they have complained that none of the national leaders have visited Moneragala, either to campaign or visit offices/supporters that were attacked. On the other hand Janatha Vimukthi Peramuna (JVP) leaders have arrived in Moneragala to lift the morale of their supporters who have also been targeted. The arrival of national leaders and the fact that youth have joined their campaign has lessened the attacks on them. However the attacks have demoralized the UNP.
Meanwhile a number of United Peoples Freedom Alliance (UPFA) candidates joined several state ceremonies in Badulla yesterday (September 3.) At an event held organized by Foreign Employment Bureau Minister Dilan Perera openly urged the people to vote for UPFA candidate Ajith Wickramaratne. Candidates Sendil Thondaman, Wadiwel Suresh and Ananda Silva took part in Mahindodaya schools programme led by President Rajapaksa.