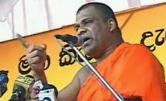 In a shocking revelation that further erodes Sri Lankan public confidence in the upholding of the rule of law and in the impartiality of law enforcement agencies ,it is now leant that 13 Bodu Bala Sena goons who spearheaded much of the anti – Muslim violence in Aluthgama have been released from Police custody due to threats of self –immolation by BBS General Secretary Ven. Galagoda Aththe Gnanasara Thero.
It is also learnt that the "release"of Bodu Bala Sena goons was strenuously opposed by Kalutara District Deputy Inspector General of Police V. Indran who even threatened his superiors that he was prepared to go public if the Police top brass proceeded with the release.
DIG Indran who is of Tamil descent was overridden by superior officers who removed the Police divisions of Aluthgama and Beruwela from under his authority as Kakutara DIG.
It is learnt that President Mahinda Rajapaksa who was in Bolivia when the anti-Muslim violence occurred in Aluthgama, Dharga town and Beruwela had given instructions to the Inspector –General of Police NK Illangakoon that immediate action be taken against the perpetrators of communal violence.
The IGP had instructed Kalutara DIG V. Indran to take action against the guilty withot fear or favour.Indran had then gone to the trouble spots and personally supervised the arrests of anti-social elements who were key suspects in the anti-Muslim attacks.Earlier when the anti-Muslim violence began the hands of Conscientious Police officers were tied by orders from above.
Among those arrested were several key activists of the Bodu Bala Sena which together with the Sihala Ravaya had instigated ,aided and abetted the anti-Muslim violence. The arrests of Bodu Bala Sena goons masquerading as activists and related interrogation led to the disclosure of startling, new information about the role played by the Bodu Bala Sena in the planned campaign of violence against Muslims. Some of those arrested had even confessed that they were obeying the instructions of Gnanasara Thero and a some other monks in targeting Muslims. They also spoke of a well – designed plot in which selected gangs were to simultaneously attack Muslim areas on a wider basis.
When prominent leaders of Bodu Bala Sena and Sihala Ravaya heard about the arrests of key operatives they exerted pressure on DIG Indran to release the suspects. INdran however stood firm with the backing of the IGP.
Unable to get his thugs released an agitated Gnanasara Thero strode into a meeting chaired by Prime Minister DM Jayaratne on Aluthgama violence being held at the Kalutara secretariat.
Gnanasara Thero flung a list of thirteen names and shouting obsecenities demanded that they be released from custody immediately.Gnanasara Thero threatened to douse himself in petrol and self –immolate if they were not released in 12 hours.
The threat by Gnanasara Thero and possible consequences alarmed the top echelons of the Government. Immediate instructions were issued through the Defence establishment to release Gnanasara's thirteen hoodlums.
DIG indran however refused to comply and insisted that they should be produced in courts first. This led to a senior DIG of Police being deployed on a special assignment by the Police top brass to ensure the release of Gnanasara's thirteen.The DIG who was senior to Indran in the Police administration pulled rank on the Kalutara DIG and initiated steps to release the thirteen hard core goons.In a bid to dilute the seriousness of improper procedure the DIG also ordered the release of 22 persons –mostly Muslims-being held for curfew violations.
When DIG Indran strenuously objected to the release there was a heated exchange of words between both top Police officials. At one point Indran threatened to go public about the issue and expose what was happening.He also warned that he may seek recourse from courts. The senior DIG then replied "Do whatever you like you fool, do you think I am doing this on my own"?
When DIG Indran complained to the IGP there was no proper response as Illangakoon himself was helpless in the matter.
In a fresh twist DIG Indran was suddenly informed that the Police divisions of Aluthgama and Beruwela were removed from under his supervisory purview as Kalutara DIG.Though Beruwela and Aluthgama are part of Kalutara district both police divisions were placed until further notice under DIG Traffic, Amarasiri Senaratne.
Annoyed by Indran's opposition to the release of BBS goons the powers that be are now training their guns on the DIG. It is learnt that a show cause letter requiring his explanation has been sent to DIG Indran. It appears that the Kalutara DIG will be made the scapegoat and held responsible for Police failure to combat Violence in Aluthgama.