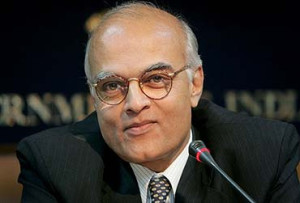 Shivshankar Menon
India is to send National Security Advisor Shivshankar Menon to Sri Lanka next month for talks with President Mahinda Rajapaksa and other government officials.
The meeting will take place amidst the backdrop of moves by the government to repeal the 13th Amendment to the constitution. According to the Uthayan newspaper, Menon is expected in Colombo on July 7 to discuss bilateral and regional issues including the 13th Amendment to the constitution.

India had this week told the Tamil National Alliance (TNA) that it is not happy with moves in Sri Lanka to dilute the 13thAmendment to the constitution.
The Indian External Affairs spokesperson's office, in a statement, said that Prime Minister Manomhan Sing conveyed to the TNA delegation that he was dismayed by reports suggesting that the Government of Sri Lanka planned to dilute certain key provisions of the 13th Amendment to the Sri Lankan Constitution ahead of elections to the Northern Provincial Council.
A six-member delegation of the TNA led by R. Sampanthan which includes Mavai S. Senathirajah, Suresh Premachandran, P. Selvarajah, Selvam Adaikkalanathan and M.A. Sumanthiran met the Indian Prime Minister yesterday as well as the Indian Foreign Minister and the National Security Adviser
It was noted that the proposed changes raised doubts about the commitments made by the Sri Lankan Government to India and the international community, including the United Nations, on a political settlement in Sri Lanka that would go beyond the 13th Amendment.
"The changes would also be incompatible with the recommendation of the Lessons Learnt and Reconciliation Commission (LLRC), set up by the Government of Sri Lanka, calling for a political settlement based on the devolution of power to the provinces," the Indian External Affairs Ministry said.
The Prime Minister stated that he was deeply concerned about the welfare and wellbeing of the Tamil community in Sri Lanka. He stressed on the expectation that the Sri Lankan Tamil community would lead a life of dignity, as equal citizens, and reiterated that India would make every effort to ensure the achievement of a future for the community marked by equality, justice and self-respect.
CG