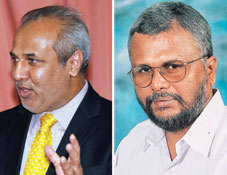 UPFA constituents, the EPDP and the SLMC have strongly opposed far reaching proposal to do away with the right of two provinces or more to merge in accordance with the 13th Amendment to the Constitution.
External Affairs Minister Prof. G. L. Peiris has made the proposal at a meeting attended by members of the Cabinet on Thursday. However, EPDP leader, Douglas Devananda and SLMC leader, Rauff Hakeem had joined forces to thwart the move, political sources told The Island.
Minister Hakeem cut short a visit to Palestine to attend the meeting in view of a campaign by a section of the government to dilute the 13th Amendment ahead of the proposed first Northern Provincial Council election.

Sources said that both Devananda and Hakeem had stressed that two or more provinces shouldn't be deprived of their right to form a single administrative unit.
Asked whether there had been dispute over any other issue, sources said that Traditional Industries and Small Enterprise Development Minister Devananda and Justice Minister Hakeem had also rejected Prof. Peiris' pitch for repealing of the constitutional requirement that the consent of all provincial councils was necessary for the enactment of legislation in parliament that infringe on their powers.
In accordance with the 13th Amendment subjects coming under the purview of Provincial Councils couldn't be modified without the permission of all PCs.
Government sources told The Island that the administration had felt the need to amend the 13th Amendment in the wake of the recent objections faced by the Divineguma Bill.
National Languages and Social Integration Minister Vasudeva Nanayakkara threw his weight behind the two minority party leaders. Sources said that Minister Dr. Rajitha Senaratne as well as Ministers, Dew Gunasekera and Prof. Tissa Vitharana, too, had been supportive of the position taken up by minority parties.
Sources said ministers had agreed to put off final decision on two contentious issues pending further study.
Minister Devananda has appointed a committee headed by former MP Dr. S. Thawaraja to study the issue.
Political sources said those opposing government moves to dilute the 13th Amendment were likely to form a common front regardless of their political affiliations.
By Shamindra Ferdinando
IS